CMP
Original Corgi Prototype of Miss Piggy in Space. Sensational item from 'The New European' Collection.
Notes
An exceptional collection of prototypes were purchased by 'The New European' Collector, largely originating from two well-documented sources i.e. the auction of the property of Marcel Van Cleemput at Sotheby's Auction House in 1999 and the Losch Auction House in Germany during 2000.
Pictured in The Great Book of Corgi, this model never went into production. So this is a unique and precious find (page 470 in 'The Great Book of Corgi'). The instantly recognisable figure of the glamorous Miss Piggy, sits at the helm of the silver Space Vehicle. In typical M.P. fashion, she is in full make-up with her trademark flowing blonde tresses and lilac evening dress – always a confident figure, she looks completely unfazed!
A delightful comic invention – note the 'curly tail' detail at the rear of the vehicle (where else!).
A little wear has occurred over the years – note the wear/chips to Miss Piggy's ears and the red jet thrusters.
Measures approx 10cms in length.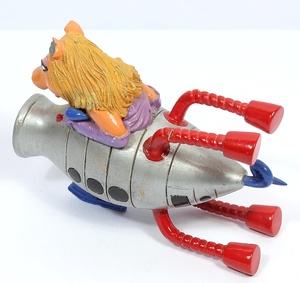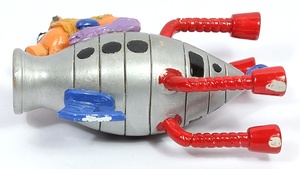 You may like