CM1
Mettoy Company Book 'Routine Procedure & Instructions' from 1943. From 'The Monty Calme' Corgi Collection.
Notes
Original Mettoy Company tome dated 1943.
A museum piece from this era, with a wealth of detail revealed beneath the covers of this impressive black file.
A fascinating glimpse into this early period in The Mettoy history.
Corgi Toys would be launched some 13 years later.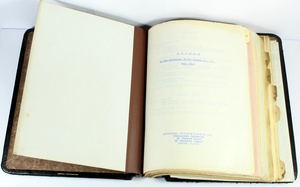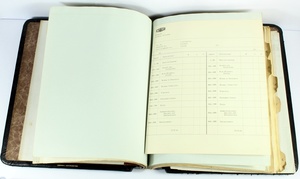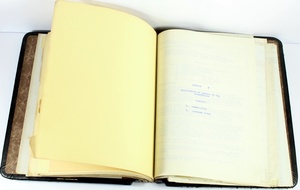 A heavy and substantial leather-bound book with large metal and cloth binding. The covers alone are each approximately 2cms thick. Wear commensurate with age. With 2 parts and divided into sections A-G under headings:
Accounting Procedures, Wages, Stock Control, Production Planning & Progressing, Flexible Budgets, Application of Systems to Toy Manufacture, Budgets, Allowance Graphs & Spread Sheets/Costing Rates.
Original typewritten sheets and original forms. Neat and well-preserved.
You may like