Q1966
Queen's Award to Industry, 1966. presented to The Mettoy Company. With Provenance picture. A unique museum piece from 'The Monty Calme' Corgi Collection.
Notes
A landmark Corgi Collection covering the width and breadth of Corgi models amassed over decades by an exuberant collector. The Monty Calme collection is a truly astonishing gathering of the best of Corgi models and ephemera, including rare and unique pieces and point of sale items. The largest collection we have ever seen.
Marking one of the best trading years ever, the Mettoy Company was presented with the Queen's Award to Industry in 1966, particularly in recognition of the success of its export trading.
This prestigious award, still in its original powder blue case, is comprised of a solid clear acrylic (or similar) block with the Royal Crest enclosed within it, with:
THE

QUEEN'S

AWARD

TO

INDUSTRY
1966
etched below.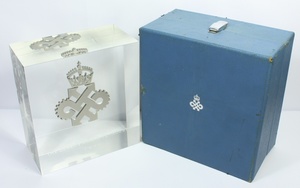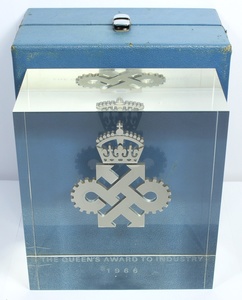 We have noted tiny marking to the surface including a very small 'air bubble'.
Blue flock-lined sturdy box with silver Royal Crest emboss has some age wear including an edge tear at one back corner of the moveable side components. Little scuff and minor age wear besides. Intact and original silver-coloured clasp.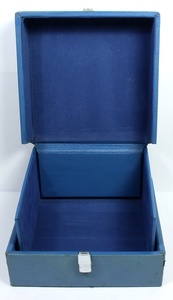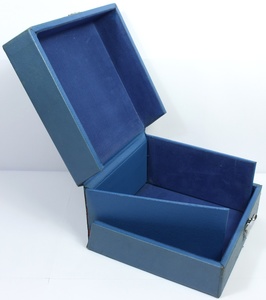 We have an accompanying set of copies of black and white photographs marking the occasion. Mike Tottle, Sales Manager for Corgi (6.10. 2000) identifies the two people in the photograph as The Lord Lieutenant of Wales and Mr. H.J. Isnor (Corgi Director). For reference, Mr. Isnor appears in 'The Great Book of Corgi'on page 201.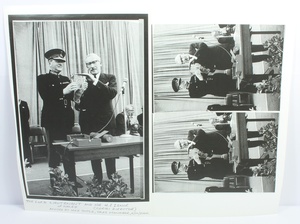 You may like