DGS42
Dinky Gift Set 42 Police Hut, Motor Cycle Patrol and Policemen. Near mint - very near mint (but Police Hut repaired so only good grade) in outstanding pictorial box. Pre-war very scarce set. From a beautiful, single-owner collection, some 25 years in the making.
Notes
A scarce and early Gift Set from Dinky with great nostalgic British appeal! A rare find.
It comprises:
1) Dinky 42A Police Box – often these early models suffer from fatigue due to the instability of the alloys. This example has has had a fractured section which has been glued back into place. However, some little pieces still missing. MInor crazing/wear besides.
2) Dinky 42B Motorcycle Patrol in near mint original condition. Minor wear and faint crazing in places, consistent with age. Clean and bright, original condition with clean, undamaged, original, white, solid rubber wheels. Nearly always split, or at best very grubby, these are in exceptional condition!
3) Dinky 42C Point Duty Policemanin a white coat. Very close to mint condition with a couple of small marks only. Exceptional.
4) Dinky 42D Point Duty Policeman in a blue uniform. Another glossy, as close to mint as you will see figure. All original detailing is bright and fresh. A delight!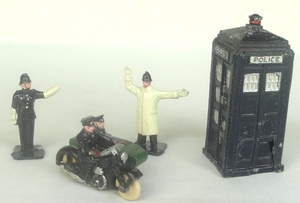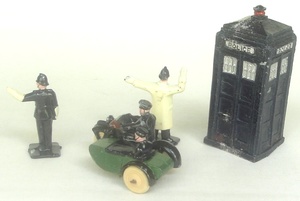 *Inner carded tray is fresh, bright and clean with no loss of colour vibrancy. A wonderful London scene backdrop for these items.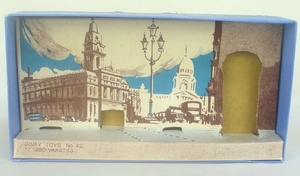 Couple of the tiniest tears at the Police Hut slots.
Powder blue lift off lid box is very bright, fresh and clean with no graffiti or splits. Only minor wear including rubbing at some edges and the occasional grubby mark. Again, in exceptional condition.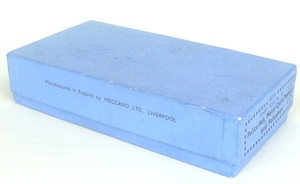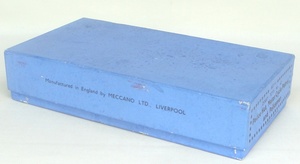 You may like