G1
Gilbert James Bond's Aston Martin DB5. Sensational Japanese tinplate model. With battery-operated functions! With James Bond figure & villain. Very near mint/boxed. From a most knowledgeable and enthusiastic collector in South London.
Notes
An exciting and sought-after high quality Japanese tinplate model!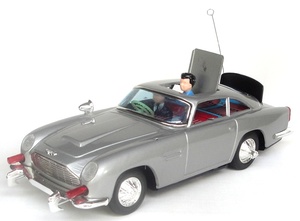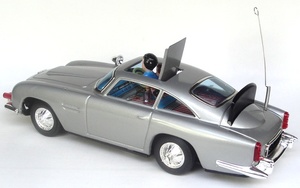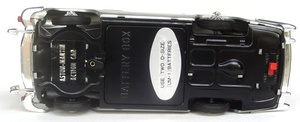 This is a real beauty and an absolute must for any serious James Bond enthusiast or Aston Martin collector; an iconic Aston Martin model which comes to life with a moving bullet-proof shield, machine guns extending, lighting up (only one lights up now) and firing, and crash bumpers extending and retracting. The model starts and stops automatically too. Extending tyre cutters and steering. All tested (thoroughly!) and working well. The ejecting mechanism works well too ejecting the villain! Number plates revolve when you raise and lower the aerial.
Virtually flawless sleek silver finish on this beautiful example with lithograped interior. MInor rub to tone of the wheels. Model measures 29cms. approx.
Lacks one of the shiny wing mirrors now.
The colurfully illustrated card lift-of lid box is a delight! The unmistakable Sean Connery is behind the wheel of the car. No tears, repairs or graffiti. Tiny age wear only. Polystyrene packing piece is included. Box is dated 1965.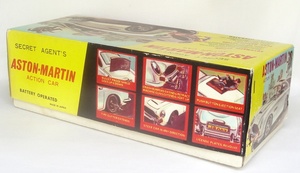 You may like