CGS2
Corgi Gift Set 2 Land-Rover with Rice's Pony Trailer & Pony. Near mint plus- very, very near mint/boxed. Scarce. Unusual to find with a combination of FLAT SPUN and SHAPED SPUN wheels. With both card packing pieces and little INformation Slip. From a high quality collection in the U.S.
Notes
Issued between 1958-68, this fine Gift Set is an early issue, having a mid-green Land Rover with a light tan tin tilt, flat spun wheels and a red and black trailer with early style wire drawbar and shaped spun wheels. Unusual to find this combination!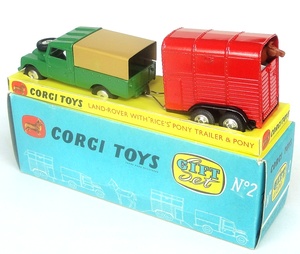 Original plastic horse is included (looking as-new with none of the usual rubbing), and comes complete with the card packing piece which secures him in the trailer.
The Land-Rover is in sparkling virtually mint condition! The most uncharitable eye may search high and low and find a couple of tiny marks.
The trailer is in near mint plus condition.
One little edge mark at the rear and a couple of negligible dots.
Outstanding vibrancy to the colours of both models!
The card plinth on which the models sit, is complete and bright. MInor marking from the models and one little wheel slot tear.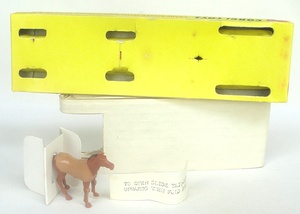 Little original Instruction Slip is included too.
The outer card pictorial end flap box is very nice indeed with excellent strong colours on crisp fresh card. No tears. Very minor age wear only. Period price label at an end flap. Comes with a complete, clean and fresh card packing piece too!
Usual high quality from this most discerning of collectors.
You may like