C261
Corgi 261 James Bond's Aston Martin D.B.5. Very near mint/boxed.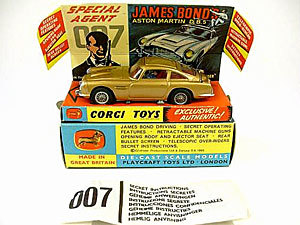 Price: £450.00
This item is sold.
Notes
A private collection of fine childhood models has just come in to stock. Barely handled and extremely well looked after with one owner from new, we are especially delighted to offer one of the most popular Corgi models ever, issued between 1965-69.
The James Bond Aston Martin is in all original condition with none of the reproduction accessories, rife with this issue.
The car is fully functioning, complete with both figures. Suspension on wire wheels. It has a lustrous deep gold finish – an especially attractive example, since mostly the Aston comes in a paler finish. A tiny (probably during assembly) mark to the paint finish just in front of the rear bullet screen, and a few tiny near-microscopic marks besides (extremely minor and you really have to look for them). Fortunately, this model does not have the almost obligatory chip on the roof!
The plinth on which the model sits is in shop fresh crisp condition – with no wear at the wheel slots. Very vivid colours.
The Instruction Packet has been carefully opened and inside there are the all important Secret Instructions which detail the retractable machine guns, opening roof and ejector seat, rear bullet screen and telescopic over-riders. All have been tested and work perfectly! The packet also contains the unapplied 007 badge which is still affixed to the backing sheet. Inside the packet, too, there is the spare villain figure, in case the first one goes astray! Also included with this early issue, is the additional James Bond colour leaflet, neatly folded, clean and bright.
The outer box is most impressive with very vivid deep colours and no rubs or wear at edges or corners.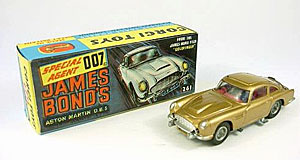 On one end flap, there is a small area of glue residue and a strip of surface removal due to a price label.
All in all, this is one of the nicest examples we have seen – and of course, all original and authentic throughout.
A piece of Corgi history and a nostalgic treat which is hard to resist!
You may like