Corgi dog
Corgi Dog. Promotional point of sale item. Excellent.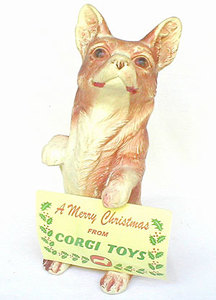 Price: £225.00
This item is no longer for sale, price for reference only.
Notes
The Corgi icon! A super original moulded rubber 'squeaky' Corgi dog in excellent condition from Christmas 1961. Measures approximately 21cm. A little minor rubbing to the nose etc. but this novelty item is as nice as you could wish! Originally it would have come with a little Christmas card – a reproduction version is supplied with this model.
No self-respecting Corgi collector should be without one!