SPS1
Spot-On presentation Set Number 1. Mint-very near mint/box wear.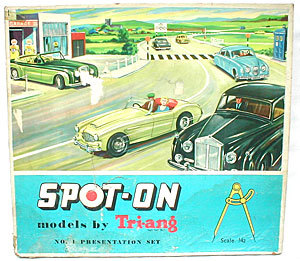 Price: £450.00
This item is no longer for sale, price for reference only.
Notes
Issued in 1960 and part of the impressive Tri-ang Spot-On range of models, all precisely to 1:42 scale. This early Presentation Set is straight from a collector who amassed the majority of his collection from toy shops during the 1960s.
It comprises the following classic British cars: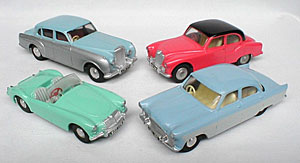 100 Ford Zodiac in light blue and grey finish with a cream interior. In very near mint condition with just a little minor rubbing at raised lines on both sides due to box contact, and a few tiny marks besides. Fine gleaming paint finish and complete number plates at both ends.
101 Armstrong Siddelely Sapphire in bright salmon and black finish, with a cream interior. Virtually mint with a couple of very minor rubs only and a tiny portion of the front number plate has rubbed away.
102 Bentley Continental 4-Door Sports Saloon in silver and grey finish with a red interior. Mint condition. Superb example.
104 M.G.A. Sports Car in mint green with grey seats and a red steering wheel. Another fine example in mint, unused condition.
All four cars have their Picture Cards unfolded.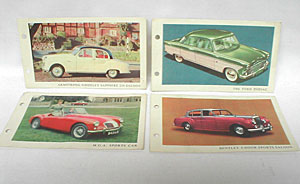 The set also contains eight pieces of roadway (four corners and four straights), and a complete set of seven metal road signs.
Some early wrapping tissue present for the cars which was present when the set was purchased at the toy shop at the time (circa 1961).
The box base is in very good condition complete with all inserts.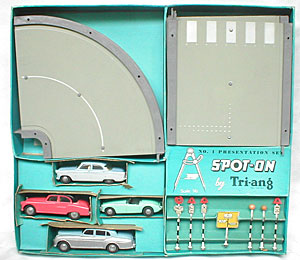 Some minor rubbing and a little age wear.
The eye-catching pictorial lid is complete and bright with excellent strong colours. A repair to a tear in the picture, some little areas of surface removal, and some cellotape repairs at three of the corners. A little portion missing at one side panel (very minor). Still presents nicely. This is a special early Spot-On Presentation Set to add to your collection.