Do you get the best out of QDT?
How to increase your chances of getting there first…
We are proud of the ever-increasing quantity of quality models that we are able to offer, whether they be from collections which we have purchased, or from collections being sold by us, on commission.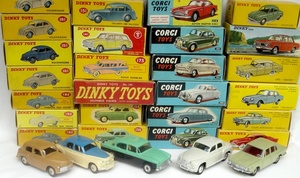 Highest standards
We will still, of course, maintain our standard of individually preparing, examining, photographing, and describing each model listed. We spend several minutes per item – researching the rarity/variation, ensuring each item is original and authentic, carefully examining under strong light, with magnification (and super-magnification!), gently cleaning off any surface dust etc., – all prior to listing. Not everything makes the grade, and many models are rejected – we keep the standard as high as we can.
This is what our customers have come to expect from us, and we believe that it is one of the reasons why they return so often.
Strong, swift sales
A natural consequence of all of this is that we have seen a marked increase in visits to our site and an increase in models offered to us. Collectors see our strong, swift sales and when it comes to selling their collection, naturally they want to sell it through or to us! We think that it is great news for all of us that interest is so strong, and that we are seeing new, and often younger, collectors joining our customer list. It bodes very well indeed for the future of the hobby.
Competition – to buy!
A great number of models listed at QDT sell extremely quickly. Sometimes we find that we receive multiple orders for items, and we have to operate on a first-come-first-served basis. We hate to disappoint collectors, and so thought that we would give some ideas as follows:
How to increase your chances of getting there first…
We are often asked by collectors – how do things sell so quickly on your site? And when should I check your site?
Well, the answer is quite simple – collectors check our site whenever they can during the day.
It is easier than ever to keep a finger on the pulse – desktops computers and laptops are all very well and good, but now collectors on the move can check as often as they wish throughout the day with mobile phones and tablets.
Best time to check the site?
We typically add about 75 items to the website every week. Monday-Friday, and usually between the hours of 11a.m. and 4p.m. Models are added 'live' to the site. Before that time, we are typically assessing collections, responding to emails, etc. etc.
For very frequent visitors, we recommend just keeping TWAAG (or This Week at a Glance) bookmarked (accessed on our Home Page immediately below our scrolling picture feature). All the latest occurrences will be logged chronologically. And this also means any model going from reserved to sold, or any new price changes too. Please bear in mind that there are generally several pages in this section, and there may well be new models for sale on every page.
So easy enough then!
Don't forget the categories!
However, we strongly recommend visiting the main Dinky/Corgi/other categories too – at least once a week. It is easy enough to miss something and models can drop down TWAAG very quickly. Although, of course, everything remains on TWAAG for a week!
Rich Site Summary – or RSS to us!
For an even closer check, we recommend subscribing to RSS – this will log every change on the website. You will be notified of every heartbeat. Please see the link at the bottom of our home page.
Typical page of RSS updates: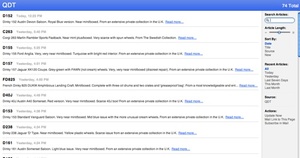 Many collectors have added themselves to our mailing list, so that they receive an email alerting them to a new collection, occasional previews of models to be offered for sale, new Blogs, or any other relevant news (but please note that this service does not inform you of every model added or day to day activity on the website). Please see the link on our home page.
We hope this helps – and please do contact us if you have any points to add to this Blog or any questions for us – we love to hear from you and get your feedback!
---