The 12 Toys of Christmas
12 of our personal favourite Dinky & Corgi toys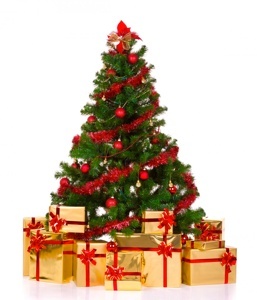 Well after much (mostly good-humoured) 'discussion', we have come up with the 12 models we would love Santa to bring us from our Archive of Sold Models. This proved far more difficult than we first thought. We found ourselves lost in reverie mainly due to the mesmerising effect of our Archive and we finally decided that the only way forward was to 'allow' us 12 each and to categorise them!
So finally, (cue fanfare), we have been ruthless with ourselves and each other and this is the final decision.
Favourite Dinky Car
Carole – 112 Austin Healey Sprite (especially in the mid-blue South African shade)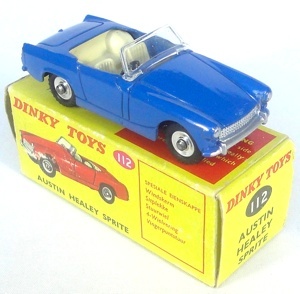 David – 182 Porsche 356A Coupe (in red, nothing if not subtle. Think it must be the 1st Dinky Toy I ever owned, in cream though)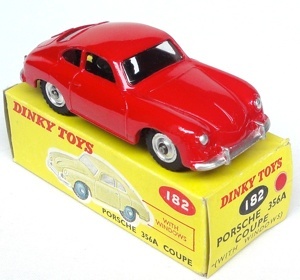 Favourite French Dinky Car
Carole – 24H Mercedes 190SL (a real beauty in this colour finish or the harder to find silver and black)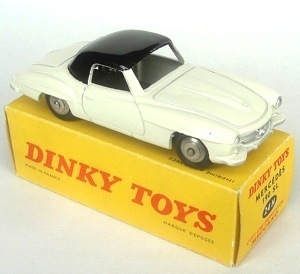 David -24V Buick Roadmaster (especially in two-tone blue)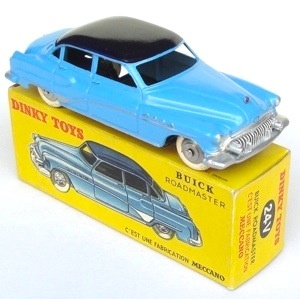 Favourite Corgi Car
Carole – 151 Lotus Mark Eleven Le Mans Racing Car (love the unmistakable simple fluid lines on these, and the Duck- Egg Blue colour version is my absolute favourite with Racing Number 1 of course, and ideally in the blue picture box)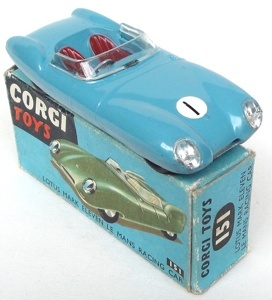 David – 259 Citroen Le Dandy (the quality of finish is always impressive – in either the maroon or blue and white – the latter being my personal favourite).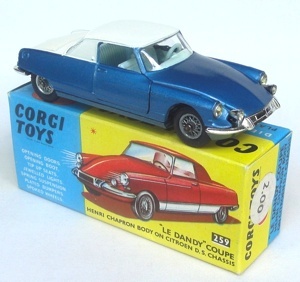 Favourite Corgi T.V./Film-related Toy
Carole -802 Popeye's Paddlewagon – (such fun and such a well-constructed toy with so many delightful touches, not least the cans of spinach and little Swee'Pea at the rear)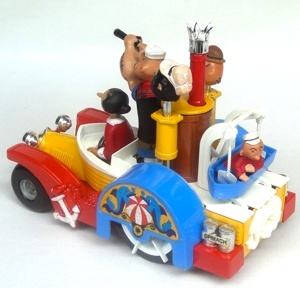 David – 261 James Bond's Aston Martin (well it would have to be this most iconic Corgi Toy! Although I was really torn between this model and the Batmobile.)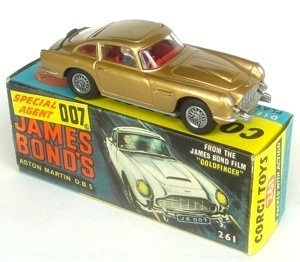 Favourite Dinky T.V./Film-Related Toy
Carole – 101 Thunderbirds 2 & 4 (just because it reminds me of Saturday morning T.V. when I was growing up) The little yellow legs on these look incredibly flimsy but this, along with the ridiculously detail-free Thunderbird 4 model, is part of the charm.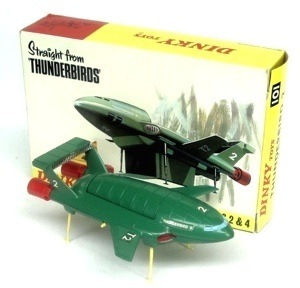 David – 102 Joe's Car (a feat of engineering and great fun at the same time)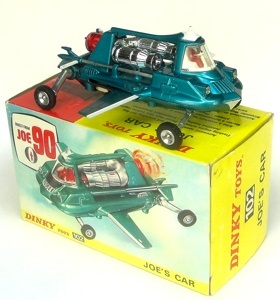 Favourite Dinky Commercial Advertising Van
Carole – 919 Guy Van 'GOLDEN SHRED' (especially love this one, and remember collecting the little set of figures at the time. Absolutely hate jam and marmalade but love the figures!)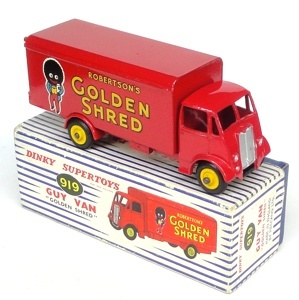 David – Guy Van 'SPRATTS' (very hard to choose between this one and the Lyons Swiss Rolls, but the logo with the wagging dog's tail clinches it)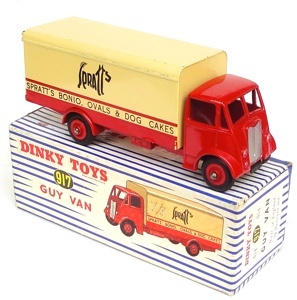 Favourite Dinky Commercial Truck
Carole – Dinky 501 Foden Diesel 8-Wheel Wagon in blue( to be honest, it could be any of the early Fodens with herringbone tyres, but the deep blue with a silver flash just happens to be the 'prettiest', if this is an acceptable opinion concerning one of the most masculine of toys).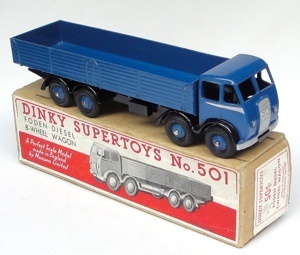 David – Dinky 905 Foden Flat Truck with Chains ( just pipped the versions in green or red and grey to the post as far as I am concerned, prefer it with maroon wheels too)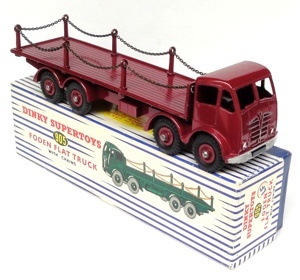 Favourite French Dinky Commercial Truck
Carole- 803 Unic Articulated Lorry SNCF 'Pam Pam' (especially when the labels are bright!)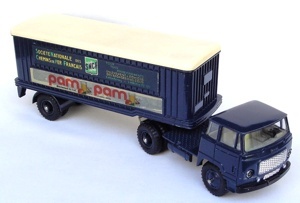 David – French Dinky 25JJ Ford Covered Wagon 'CALBERSON' ( seen very few of these and must admit to never having heard of the Calberson company, but it doesn't seem to matter too much, it is a great looking French Dinky toy).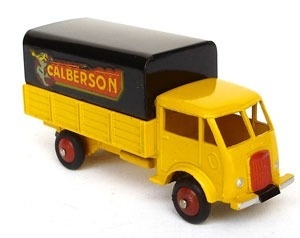 Favourite Corgi Commercial
Carole- Corgi 474 Musical Wall's Ice Cream Van ( especially when the chimes are working properly)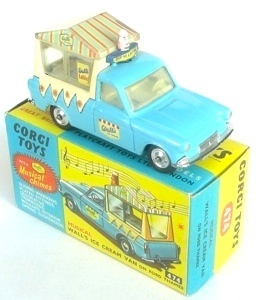 David – Corgi 1100 Carrimore Low Loader (sure I had one of these as a child)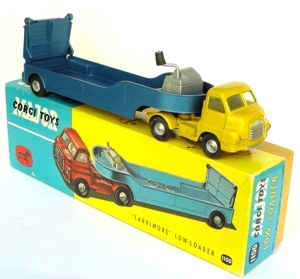 Favourite Corgi Gift Set
Carole – No 22 Farming Set (the box lid alone is a work of art – and how ambitious to include a whopping Combine Harvester in the set).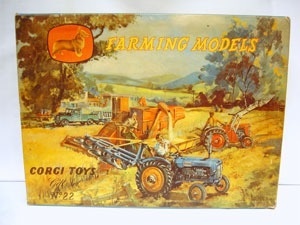 David – No.6 Rocket Age Models Gift Set (another work of art box and the contents don't disappoint either)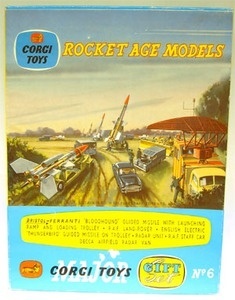 Favourite Dinky Gift Set
Carole – No.61 Aeroplanes (love the lid, and I can imagine never daring to remove those beautiful and delicates planes from the box).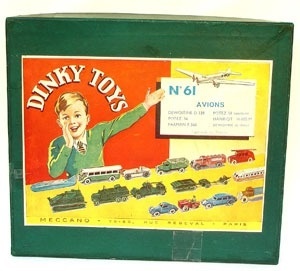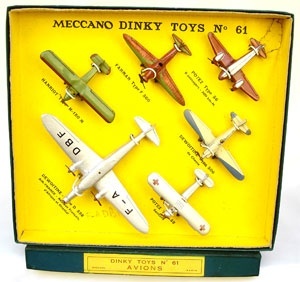 David – No.3 Passenger Cars Set (have only ever handled one or maybe two of these, a spectacular set)
And to finish, we have allowed ourselves just one other toy that we could not possibly leave out!
Carole – Dinky 25H Streamlined Fire Engine – I absolutely adore this Dinky Toy, right down to the little brass bell!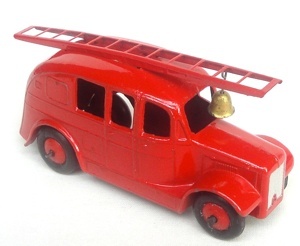 David – Dinky 943 Leyland Octopus Tanker 'ESSO' (my wild card had to be something substantial and this iconic Dinky fits the bill)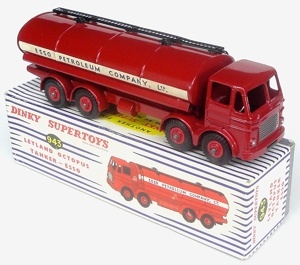 We would like to take this opportunity to wish you a very Happy Christmas and a wonderful 2013, and we hope to help you find some more models from your own personal your Wish List.
---