Good reasons for us to remember 2020!
It has been the strangest of years for everyone – we think we can all agree on that. As we look back over 2020, we are especially grateful to every single collector who has contributed to QDT, whether as a buyer or a seller. We feel blessed that our business has continued notwithstanding all the turbulence that 2020 brought in its wake. Our work (although it never quite feels like that!) has been the one constant for us and the one place where life continues normally for us. We hope that collectors have found a little diecast distraction at QDT too.
We look back at some of the most memorable toys over the past year and after much 'debate', we have selected just one model per month (with the exception of November where we had to opt for two!).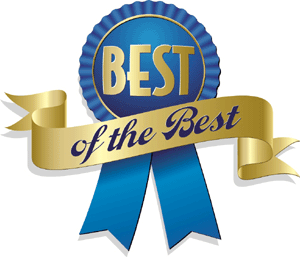 January
In some ways, 2020 was the story of the Spot-on model. With QDT Auctions achieving precedent prices for a good percentage of the models listed, we have chosen Spot-on 100 Ford Zodiac in dusky pink and light grey. Looking exquisite and in virtually mint condition – and it had the correct colour spot on the complete box too. It seems that collectors agreed with us and it was a battle at auction with the final selling price of £1750 plus commission.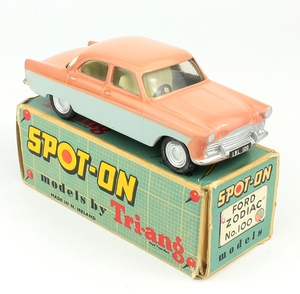 February
Corgi toys have always had a very strong following at QDT. Surely one of the most iconic Corgi toys has to be the 'Corgi Toys' Bedford Van advertising Corgi Toys on both sides and proudly bearing the Corgi Dog logo too. There are three different versions of this model and this one is probably the hardest to find. In just two days at QDT Auction, this model rose in value from £600 to £1550 plus commission.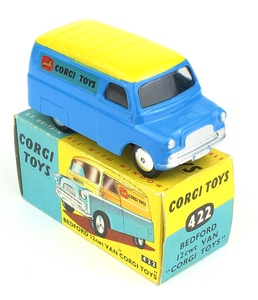 March
It is always an exciting moment to open up Corgi tv related models and with the additional frisson of it being a Corgi Gift Set from arguably the richest seam that is the mid-late 1960's, then we could not help but succumb to the charm of Batman's Batmobile and Batboat!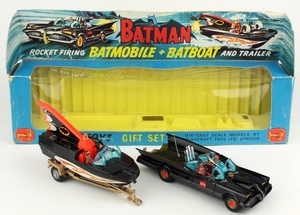 This 1st issue version in the most decorative window box, achieved £2400 at QDT Auction, plus commission.
April
Arriving on our doorstep neatly packaged one fine Spring morning, this exquisite Dinky Jaguar made our day! The first time we have ever offered this particular version for sale. Finished in turquoise as usual, but this transition issue had lemon plastic (not yellow) wheels, a white painted metal driver and a black plastic steering wheel. Small details perhaps but crucial to the value that was attributed to it by some determined collectors. A hard fought battle at QDT Auction was a pretty exciting spectacle in its own right, and the price finally settled at £1050 plus commission.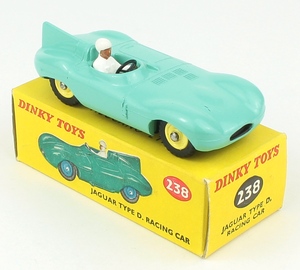 May
Spot-on models seemed to dominate our listings during this month and we feel particularly proud to highlight this Fiat 500 in rich green, complete with its delicate wing mirrors and very fresh box. Such a rare find. This was another epic auction battle and in the final round, £2305 plus commission was the result.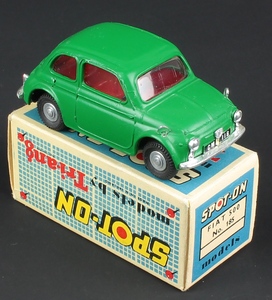 June
If Spot-on dominated May, then Corgi came back fighting in June with Corgi 241 Ghia in an arresting copper shade and a truly iconic Corgi 270 James Bond Aston Martin in gold that was part of the personal property of Marcel Van Cleemput Chief Designer for Corgi. However we have to select the Corgi 404 Bedford Dormobile in pale blue and lemon – these Corgi Vans seem to hold a particular fascination for us it seems. We are not alone, it appears that collectors agree with us, especially when it is a first casting colour sample piece! We are especially grateful to our Pennsylvanian collector for bringing this model to us at QDT.
Another epic battle at QDT Auction resulted in a value just tipping over £3000, not including commission.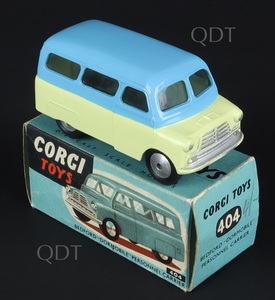 July
We are particularly fond of display pieces and promotional items that can take collections to another level. Collections that hold original period ephemera always seem to have the edge. We know that you can get perfectly suitable modern cabinets for displaying your collection, but having at least one of these memorable 1960's shopkeepers cabinets (if space allows) should be on your wants list.
This is the first Dinky Carousel of this type that we have ever offered for sale. Originally destined for California back in the day, the original packing box is pretty compelling in its own right! It found its way back to the UK in 2020 and achieved £3100 plus commission at QDT Auction.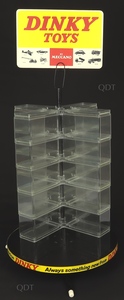 August
Getting a Shell BP Tanker by Spot-on is no mean achievement. This one presented so well and was in completely original condition with vivid labels on both sides. We could forgive the near-inevitable couple of chips on the front wheel arches when the tank swivels. So too, could collectors. With a very pleasing blue box, and internal packing piece, a QDT auction result of £975 plus premium was achieved.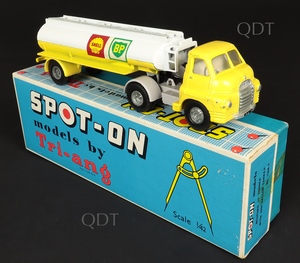 September
Marking QDT's increasing involvement in other fine makes from continental diecast model-makers, we had to include this splendid Tekno Thunderbird model finished in glossy gold with blue seats. A rare find by anyone's measure and a tribute to the remarkable collection that hails from Berlin. Sold for £750.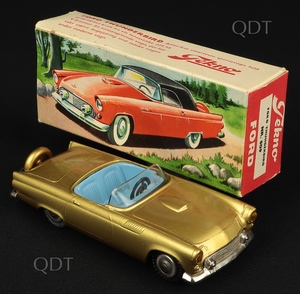 October
This has to be one of our favourite Spot-on models. An absolute delight in this sky blue and silver combination!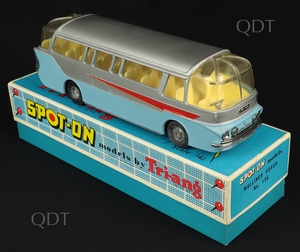 The QDT Auction played out over 5 days and resulted in a value of £1650 plus commission being achieved.
November
A very exciting month for us with two remarkable Mebetoys models coming to us from a dedicated collector in Italy. The intriguing Duetto Spyder and the Fiat 500 in the special launch box were quite breath-taking! An intense battle played out at QDT Auctions over just three days when a value of £8100 was achieved for the Duetto Spyder.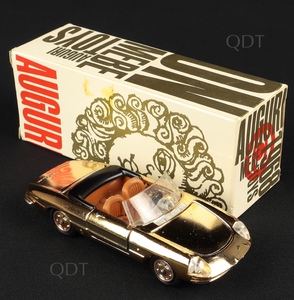 Also hard-fought, the Fiat in the special launch box achieved £6100 plus commission.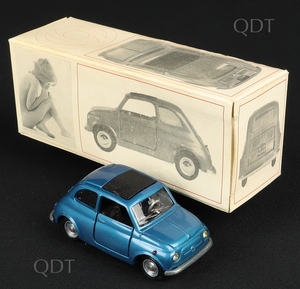 December
The magnificent Dinky 992 Avro Delta Wing Vulcan Bomber saw off all contenders for the highest place in our memories during this Christmas month. Sold at Auction at the end of November but sent to its delighted new owner as a special Christmas present, we feel we must end the QDT Year with this one! A hard fought contest at QDT Auction resulted in a world-beating value of £7100 plus premium.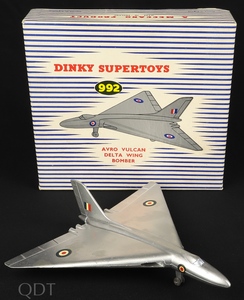 We wish every single collector a really happy 2021! Cheers!
---