As Corgi would say 'That's More Like it!'
Part of The Eric Morris Collection.
This collector has been on a mission. As a result of twelve years determined searching, a probably unique collection of original Corgi press advertisements has been compiled. A remarkable collection that vividly evokes this bygone era.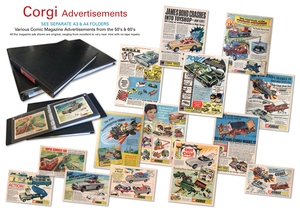 This could well be a unique anthology of Corgi's press adverts across four major boys' comic titles (TV21, The Victor, Valiant and The Eagle) over a fifteen year period, from 1956 to 1970. An opportunity to complete the discerning die-cast enthusiast's cabinet of curiosities.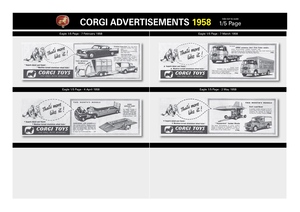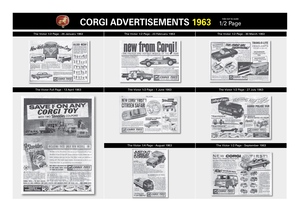 This fantastic treasury of vintage advertisements, painstakingly assembled over a twelve year period, evokes the thrill of youthful aspiration from that simpler, happy era, when resisting the lure of the local sweetshop for a few agonising weeks could be rewarded with the chance to own your very own Batmobile or Chitty Chitty Bang Bang!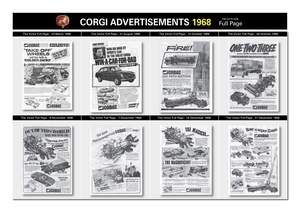 Corgi would advertise in Boys Comics at least once a month showcasing their new models (at least three per month). The ads, neatly cut from genuine copies of every issue that featured a Corgi classified advertisement, are chronologically catalogued in four indexed presentation folders, which together form a fascinating history of the toy company's advertising strategy in the lucrative youth media sector in the third quarter of the twentieth century.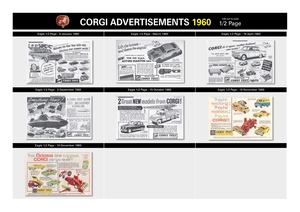 Mainly Half-Page and Full-Page, portrait/landscape examples, the set includes many of Corgi's iconic models, such as James Bond's Aston Martin DB5, Chitty Chitty Bang Bang and of course, Adam West's Batmobile, as well as other lesser known gems like the Singapore Airlines Concorde and Donald Campbell's record-breaking Bluebird-Proteus CN7.
The collection bears testament to the incredible talents of a past generation of illustrators, copywriters and art directors, for whom the level of accuracy and attention to detail was every bit as important when selling a 1/43 scale Rolls Royce as if it were the real thing.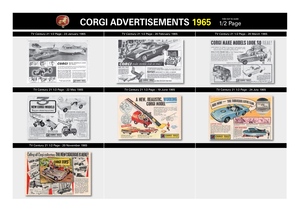 The package is comprised of 97 Valiant ads (85 mono, 12 colour), 94 from The Victor (93 mono, one colour), 87 from TV21 (13 mono, 74 colour) and 89 placed in The Eagle (80 mono, 9 in colour). The high cost of four-colour print production in the 1950's and 1960's accounts for the larger number of single-colour (i.e. black and white) in three of the four publications; issues of TV21, first published in 1965, were almost entirely printed in full colour, making mono ads the scarcer variant from its pages.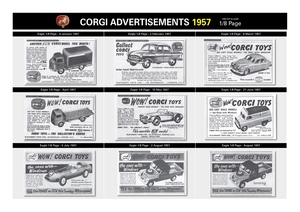 Numbering three hundred and sixty-seven in total. These original ads have been placed in separate folders, with actual issue dates for each ad. where applicable. They are a worthy accompaniment to any Corgi-centric assembly, it's unlikely that the opportunity to acquire an equally comprehensive selection of single-manufacturer press campaign material will ever be repeated.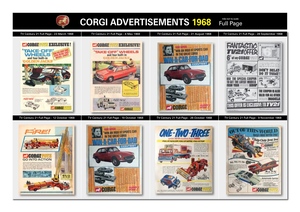 ---