The Berkshire Collection Part 2
A small but bewitching collection of rare or super-rare models.

With some astonishingly rare pieces, this small collection of models fairly dazzled us when we went to view it  just after Christmas.
As one walks through the door to his private (and rather splendid) gated residence, one quickly becomes aware of the owner's preference for unique statement pieces, rare and one of a kind original works of art, and even the most 'standard' of items such as central heating radiators are quite unrecognisable as such, looking rather more like works of art/pieces of sculpture than the usual household fixtures and fittings. 
It is not surprising therefore that this trend continued into his collecting life. 
In fact, it is fair to say, that the majority of his collection fell into one of the following categories: rare, very rare, extremely rare or  pretty much unique! Considering he regards himself as firmly a non-collector, the bewitching culmination of over two decades of painstaking search is plain for all to see. 
Our first tranche comprises: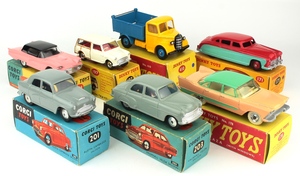 Corgi 201 Austin Cambridge in virtually mint condition - and in grey! Rare, particularly in this condition. More usual variation is turquoise, or a two-tone version.
Corgi 214M Ford Thunderbird, pink, black roof. Very near mint condition and another rare Corgi model from this collector. 
Corgi 203 Vauxhall Velox Saloon, a possible factory colour trial in grey – falling into the extremely rare category!
Possibly unique (or perhaps one of a very short run) – Dinky 178 Plymouth Plaza in salmon pink and green, spun wheels – but with a fitted interior - this will be a First For QDT! And in fact, we think for anyone else too. 
Dinky 410 Bedford End Tipper, in vibrant yellow and blue, with blue plastic wheels – another from the very rare category!
Dinky 197 Morris Mini Traveller, in ivory with an Austin (not Morris) grille, another variation from the very rare category. 
More to be added as we progress through this collection
---