Riding the crest of the wave with The Monty Calme Husky & Corgi Junior Collection
Part 2 of this world-class collection unearths some outstanding items including old shop stock finds in the U.S.
A remarkable and inspirational collection which continues to serve collectors with only the very best, so often the very rare, and at times, bringing to the market-place items that are close to unique!

Monty says:
"I always kept an eye out for quality items and the Husky/Juniors seemed to be largely ignored by most serious collectors and on trips abroad it was even more obvious and consequently I was able to acquire large numbers of these items fairly easily. Most times, I was the first owner as a lot came from old toy stores that had or were closing down. Many when I was in the USA were from dealers but straight out of trade boxes/packs. Toy fairs were a goldmine particularly abroad.
Many of the sets I have never seen since; often they were produced for only a year or two as trends changed. Husky were replaced by Juniors. Rockets survived for a year and in the States were overtaken by Hot Wheels and Matchbox Superfast. From the height in the 60's/70's things really went downhill by the time the 80's were upon us.
The box artwork on the sets was, and still is, the most appealing – something we have sadly lost today. Interestingly, I have acquired similar quantities of late 70's to mid 80's (Juniors) items not as well designed and some would say a little crude in construction but still representative of toy production in the U.K. and in my opinion a good reason to collect them!"
Just look at some of the sets Monty has managed to source!
(Click each image to get a bigger version).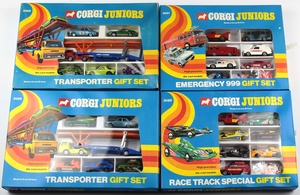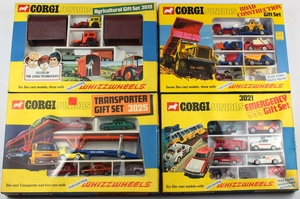 Impressive quality as usual – and that includes the Brazilian KIKO brand of Corgi Juniors! How rare to find with the original (and always so flimsy) cellophane overwrap.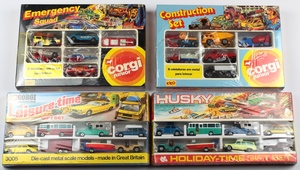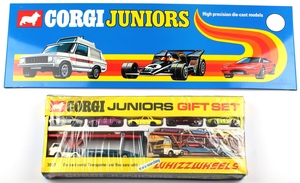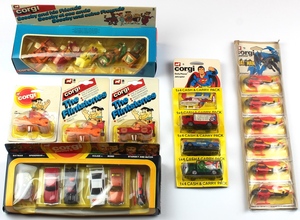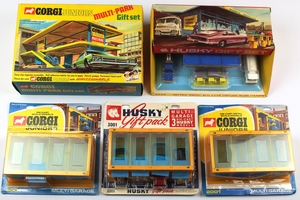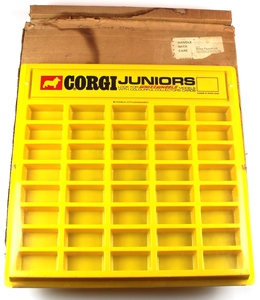 And, of course, as you may have already guessed – there is plenty more to come!
---