The Lewes Collection
A remarkable Corgi Collection – a homage to the best that Corgi produced during its heyday. This assemblage includes the highest quality T.V. and novelty items, Gift Sets, rare items, promotional pieces and Corgi prototypes featured in The Great Book of Corgi.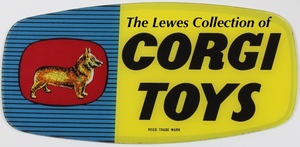 This collection has caused a ripple of excitement here at QDT – to see these wonderful items all at once feels quite a privilege. It is clear that this collector had an uncompromising eye and a steadfast determination to acquire the very best he could. Each model was painstakingly and carefully stored.
We first caught sight of the t.v. and film-related Corgi models and were immediately impressed with the high quality of both models and boxes, and of course, it was heartening to see that each came complete with all of its requisite accessories!
(Please click each image for a larger version).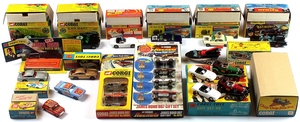 Note the Corgi Chitty Chitty Bang Bang in its original sleeve sent to the lucky winner of a Daily Mail competition (original letter is included too). Note the superlative condition of the James Bond models, so wonderful to see! An exciting Mini Mostest with both a temporary and a full colour picture box (he wanted both!). Two exciting James Bond 007 Gift Sets – both particularly rare and especially so in this condition. Unsurprisingly, he has both versions of The Green Hornet, both versions of the Avengers Gift Set, both versions of The Man From UNCLE, the matte and gloss version of The Batmobile….
What a picture these Gift Sets make!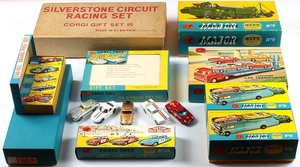 The elusive Corgi Gift Set 9 has to be a feather in this Corgi collectors cap (particularly hard to find in a decent box too).
Surely the rarest of the sought-after Silverstone Gift Sets in this plain buff box, the rarest version of the All Winners Set with the gold James Bond Aston Martin, two versions of the Ecurie Gift Set and two superlative examples from the range of Corgi FAO Schwarz Gift Sets!
The rarest sector of this collection focusses on colour trials, promotional models and prototypes.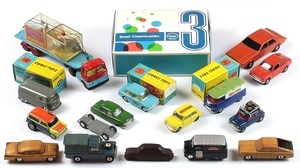 Centre stage is the Benzeen, the rare Dutch promotional item. Nearby is the Vroom & Dreesmann another rare promotional Dutch model.
Danish promotional version of the Hillman Imp – the Jensen's model.
The BOOTS promotional version of Corgi 462 Commer Van.
Note the incredibly rare pre-production/trial version of the Chipperfields Menagerie (originally purchased from QDT as part of the Monty Calme Collection).
Originally sold through Losch in Germany is this sensational Stock Car Mini in blue & lime-green, originally the property of Marcel Van Cleemput, Chief Designer for Corgi.
Pre-Production Sample Road version based on Corgi 308 Monte Carlo Mini Cooper 'S' in blue with roof rack. Purchased from Marcel van Cleemput. Originally sold through QDT.
Promotional Corgi 226 'Mustard Mania' Mini, originally purchased from QDT.
The green Consul, a show sample, with vacuum-formed windows and a grey tinplate chassis, pictured on page 30 of The Great Book of Corgi.
3 wooden (mahogany) Master models which form part of the production process (see pages 26-27 in The Great Book of Corgi).
Cadillac Seville, a larger scale wooden prototype.
Corgi 306 Morris Marina 1.8 Coupe. One of a small production run – a rare find in Brick Red.
Corgi 'EVENING STANDARD'. Rare version with transfers (not paper labels) at the sides. Originally from The Monty Calme Collection.
Corgi 351 RAF Landrover, with a yellow interior!
More images and information may be added to this working Blog as we progress through this collection.
---