The Rise of Husky & Junior models
Collectors' appreciation of these often overlooked models is increasing. A fantastic array, courtesy of The Monty Calme Collection, comes to QDT and showcases the very best of this brand.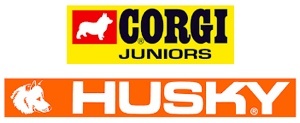 QDT note the recent trend and increasing popularity of these charming, smaller scale models.
The Monty Calme Collection of exceptional Corgi was sold through QDT several years ago. His eye for quality and his ability to source the very best that Corgi had to offer worldwide, caused much excitement here at QDT and with collectors! We are thrilled to bring to QDT, the next instalment from his collection – in many ways, even more dearly loved by him – and again we note his timing is perfect! These 1960's – 70's smaller scale models are finally being noticed and growing in popularity with collectors. His collection (of course) is of the very highest standard and we are keen to bring this hitherto overlooked range to collectors in 2019.
Background story.
Husky toys were introduced in 1964 following an exclusive deal with Woolworths to market a low cost toy to try and deliberately undercut the ever popular Matchbox 1-75 series.
They proved a slow start but grew ever more popular as they featured many different varieties of toy car/van in varied colour schemes. Many had an American theme and were sold exclusively throughout North America.
1969 the blister cards changed from the red and white to a new all yellow format and with the introduction of the film and TV lines of James Bond, Batman and the Man from Uncle things looked like they were on the move.
But in 1970 the exclusivity deal with Woolworths came to an end and now in direct worldwide competition with Matchbox it was decided that the Husky name would be replaced and effectively Corgi Juniors was born.
Note:
As the tooling took time to change over many of the earliest Corgi Junior models were still produced with Husky base plates and so intricate stickers were applied showing Corgi Junior. These are probably the rarest versions and hard to find in mint packing.
Monty says:
I had always had a fascination with the smaller scales models produced by Corgi…Husky, Corgi Rockets and Corgi Juniors. The quality, colours, packaging and general appeal made them irresistible to me.
Plus 20-25 years ago they were cheap as the serious collectors had not yet woken up to their charm!
So whenever I had the opportunity to buy them, I did. Whether individual items, gift sets or the really impressive film and tv items in particular the Batman items with incredible artwork..I loved it all.
I even managed to find original salesman's samples which I have not seen since!
Whilst the larger scale Corgi toys have proved very popular in recent years and in many cases excellent investments, I feel that the Husky, early Corgi Junior and Rockets have been largely overlooked, although in the last two years I have noticed a sizeable up tick in the prices these wonderfully detailed toys are now starting to command.
A selection from Monty Calme's Husky and Junior Collection.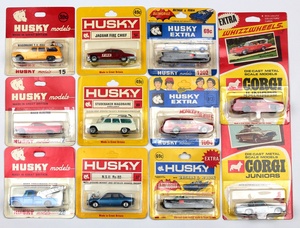 One of Monty's rarest finds – this original Shop Display Stand with a Newark New Jersey metal tag on the reverse: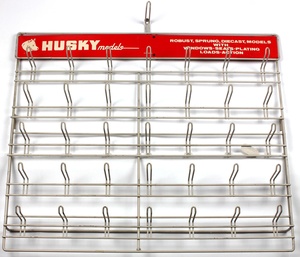 An exceptional, full, shop-fresh Trade Box of 12 x Husky 1401 James Bond's Aston Martin models! The (always vulnerable) outer carton has been carefully stored and barely handled, so preserving its as-new look and feel. Models to match. Monty resisted the temptation to even prise open the Trade Box more than once or twice in decades!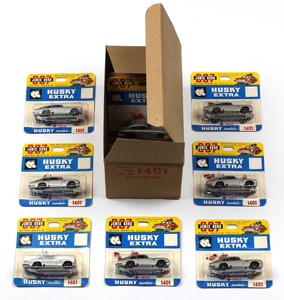 Just look at the wonderful artwork of these shop stock Gift Sets from 1968-69!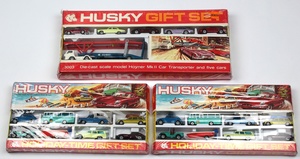 Key items from the T.V range: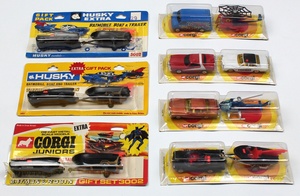 Three of the most sought-after iconic Junior models: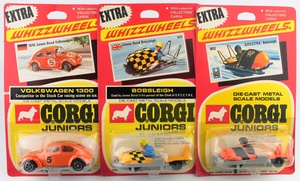 Exciting Reeves International Sets from the U.S: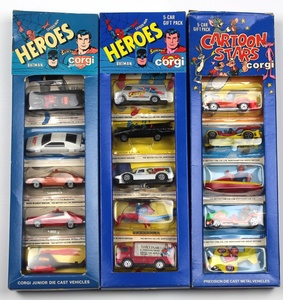 Particularly rare to find are the 3 Salesman's samples and the individually carded Holmes Wrecker: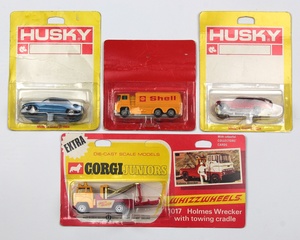 ---