A Dinky Collection of the highest quality
And so it begins….our youngest and fondest memories can inform the rest of our lives.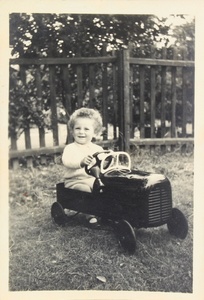 This long-standing Dinky collector recalls:
"In 1954, I was 18 months old and this is one of the first toys I remember. Dad came home from work one evening with this surprise present! I loved this toy from the first moment I set eyes on it."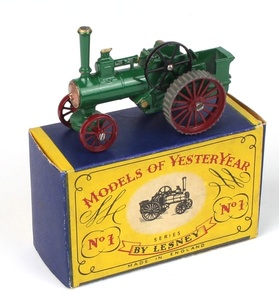 "I began collecting in earnest during the early 1980's. My collection falls into 4 categories: Sports & Racing Cars,Dinky & French Dinky Commercials, early Matchbox models (Regular & Superfast) and tinplate models. I have always sought the best possible examples of each model. As close to pristine as possible!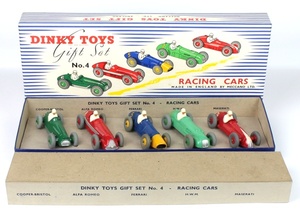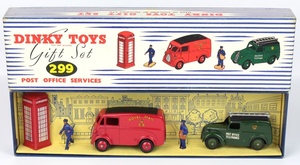 I would like to share some images of my Dinky commercials with fellow collectors".
At the start of 2018, we hope this article will inspire collectors old and new to seek out the very best Dinky Toys. They are part of our heritage and deserve to be in the hands of appreciative collectors. This collection may not be coming to QDT yet – after all, this collector has spent decades seeking the very best Dinky models…..
A difficult version to find – this Pullmore Car Transporter is in vibrant mid-blue throughout with fawn ramps (more common version is paler blue, with either pale blue or fawn ramps).
This particular example has all of its packaging and comes in an outstanding striped 'DINKY TOYS' box.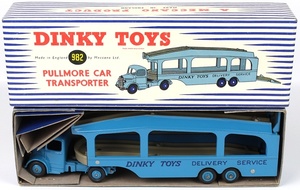 A group of Dinky Tankers made during the 1950's. Unsurprisingly, all 4 examples here are in pristine condition, both models and boxes.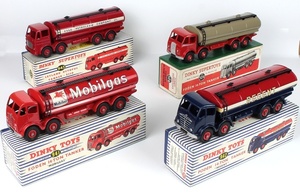 Another iconic Dinky commercial – this time the rare 'Sauce Bottle' version of the Guy Warrior 'Heinz' Van. Note the correct plain striped box for this van too.
Issued 1960.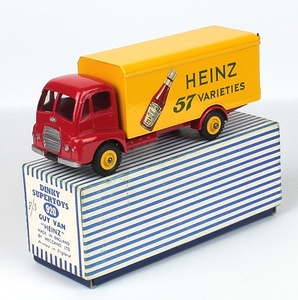 Variations on the Dinky Commercial theme – earliest issues with the 1st type radiator (501 and 503 pictured here from 1948) and later issues in striped 'Supertoys' boxes. Rarest of this group would be the red and black tailboard Foden, although all are extremely difficult to find in this pristine condition.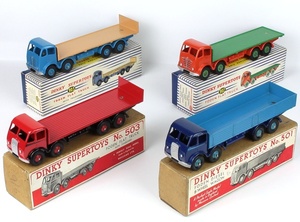 There are 9 versions of the popular Dinky Breakdown Truck – here are just 3 different colour versions of the Dinky production spanning 1954-64 (an earlier version 25X was made during the early 1950's). And the most difficult version to find? Well, it has to be the blue and fawn version pictured on the right here: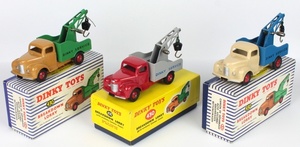 The range of Dinky Guy Vans with advertising are some of the most eagerly sought and iconic Dinky models. Here are 4 from this range produced during the 1950's.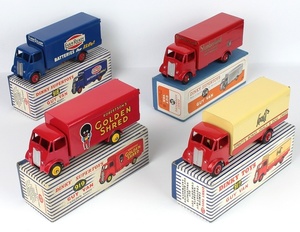 A colourful trio of Dinky Guy Flat Truck (with/without tailboards). These three are authentic examples (of course) – there has been an increasing number of 'new' varieties that have found their way into the market place, sadly.
The most difficult example to find in this group is the yellow Flat Truck, although the red cab version with a mid-blue back is not far behind.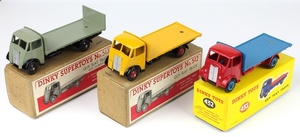 Four from the range of Austin Wagons made by Dinky during the mid-late 1950's. Again, difficult to find these models and boxes in this superlative condition, particularly the powder blue version (which is especially prone to chipping).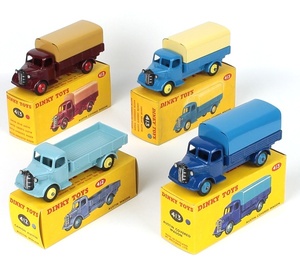 Not forgetting the French Dinky factory which also turned out some pretty impressive commercials. These 3 '25 Series' Covered Wagons with advertising were not individually boxed. All made during the late 1940's – early 1950's.

4 English Dinky Wagons (25b in blue & 3 25F Market Gardener's Lorries). These early Dinky commercials would have been sold from a shopkeeper's trade box of 6. Essentially 'unboxed' models that would have been prone to chipping! Especially difficult to find the yellow examples as fine as this. The radiators would easily tarnish over the years, too – these are all gleaming bright.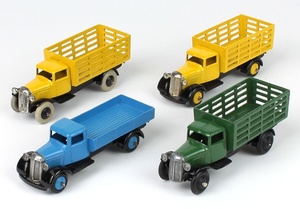 We close with 2 of the earliest Dinky models from this outstanding collection: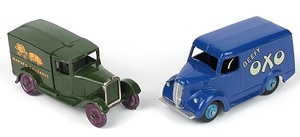 The Marsh's Sausages Delivery Van in particular is a pre-war Type 1 model with authentic purple-wash wheels. One can only imagine how long it would take to find this early Dinky toy in this condition. The 'Beefy Oxo' Van was made during the 1950's and was available from a shopkeeper's trade box of 6.
---