The Lake Collection from the U.S. (Part 2)
The second instalment from this vast high quality collection. From a pristine Matchbox Display Stand, pre-war Dinky Sets to the most sought-after Corgi Gift Sets and more besides, this collection really does seem to have it all.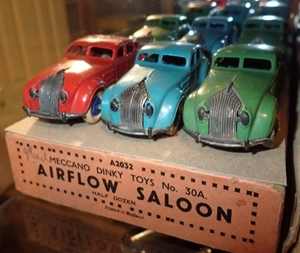 The Lake Collection – QDT Blog 2
For this blog I'm going to show a variety of diecast cars from different manufacturers. I have so much to show from my collection though most items haven't been photographed and time available doesn't permit me to take pictures of all the items I'm sure QDT's collectors will have interest in. So for now, it will be this mix of different models that I already had photographed.
I'm going to start with this complete Matchbox set from, I believe, 1959, an original Fred Bonner store display that to my understanding was only in the U.S. market. All the Matchbox models are shop stock mint. I'm not a big Matchbox collector but when I saw this complete set come up for sale I couldn't pass it up. Note that this Matchbox store display and set of models has appeared in one of the wonderful books published by Andrew Ralston.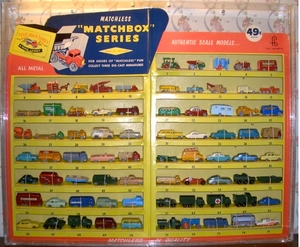 In my 5000 or so piece diecast model collection, I have more Corgis than any other single brand, including all the Corgi Gift Sets and many rarities, such as this mail-order only Gift Set 41 Scammell Transporter with six cars, including the very elusive orange MGC. These orange MGCs were prone to paint chipping and I assume that's why Corgi made so few in this colour. This version of the mail-order GS 41 is much rarer than the earlier similar version with the Ford Transporter.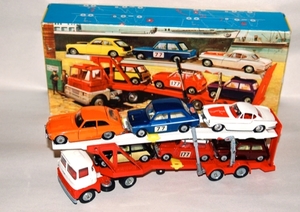 The Beatles Yellow Submarine isn't a particularly rare item, though finding one with white and yellow hatches to match the animated movie version is much harder than locating one with the red hatches. Some years ago I put out a search for one of these and was fortunate to find this mint Yellow Submarine in an excellent original box with blue 'sea' background. I recall when these first were introduced and I still have the one I purchased in my childhood in 1969, albeit that one has the red hatches and the box is long gone (though it is otherwise near mint).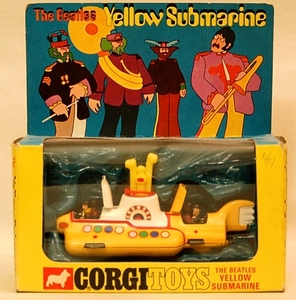 The next two Spot On items are really interesting because they aren't listed in any catalogue nor do they have any item or reference number. My understanding is these were sold in the U.S. market only and were made up of surplus pieces. The first one is the Mercedes 230SL with Horse Box, definitely not a normal Spot On issue, and the second one is a Morris Minor with Figure. Both use boxes that were apparently adapted from other Spot On models, and the item numbers were taped over in yellow tape that matches the inside of the box. Both of these are shop stock, never removed from box.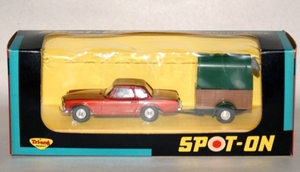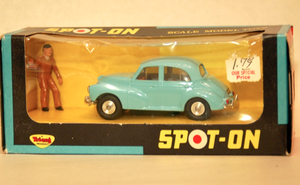 Buby of Argentina made some fantastic models of American cars in the late 1950's and early 1960's. These are nearly impossible to find today in any condition. I have a nice collection of early Buby models which includes this 1958 Ford Fairlane. Note that the windows are part of the casting and are painted silver on this version, they were also produced with clear perspex windows…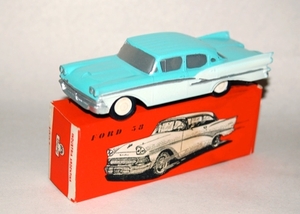 … as shown in this photograph of the same model. The clear windows, different colour and chrome wheels give a completely different look to the same casting.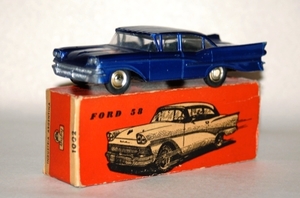 Also impressive is this 'Policia' version of the 1958 Ford by Buby.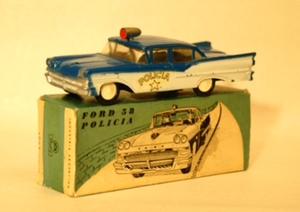 Switching again to something different, here is a photograph of two Nicky Mercedes Benz 220SE models. Anyone who has seen or knows of Nicky models is aware of their low quality finish, nevertheless they are intriguing and certainly appeal to Dinky collectors. In this photo you can see the very rare version of the Nicky box that is labeled as Dinky brand, next to the much more common Nicky box. My understanding is that when Dinky saw the poor quality of the Nicky models (that used original Dinky tooling) they insisted on the name change.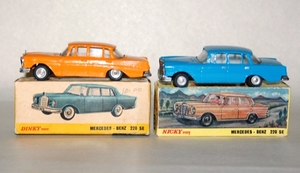 Back to Corgi, in my last blog I showed a photo of the exceedingly rare Corgi Gift Set 45 All Winners with the James Bond Aston Martin. In this photo Corgi collectors can see the three versions of the All Winners Set, noting that both the GS 45 version and the second issue GS 46 version have over-labels covering the text that shows the contents of the original GS 46. From this photo it is clear which version came first.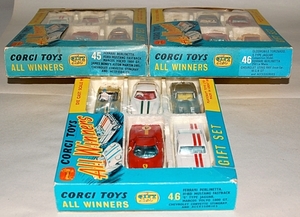 Among the most sought after Corgi items is Gift Set 15, Silverstone Racing Layout. Some years ago when I lived in France I was fortunate to find this one from a private seller in England. It is 100% mint shop stock and includes everything that is supposed to be in this set (such as the Humbrol paints, Aurora cement and wax paper over the transfers). The models and their original boxes are as bright, crisp and fresh as the day this set was produced, and include all inner packing. A beautiful set.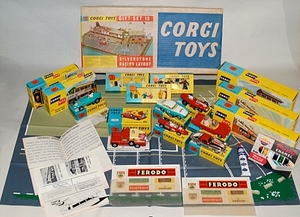 Back now to Dinky, here is an original Gift Set 24 Motor Cars set. While not mint, it is in beautiful condition considering that these pre-war Dinky's were prone to metal fatigue.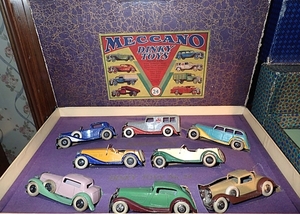 And speaking of pre-war Dinky toys, here is a #28 Pickfords Moving Van with the rarer wheels and white tyres. The van is casted from lead so there is no fatigue to the model, but the wheels show metal fatigue typical of Dinky Toys from that era.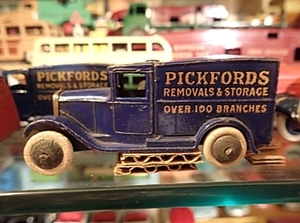 Back to Spot On now, here is a rare set that I just recently acquired, the Ford Zephyr with Caravan. The perspex window is cracked, very common on Spot On Window boxes, but the set is otherwise mint with a good to excellent box. What struck me as being most interesting is the colour of the Ford Zephyr, I've never seen one such as this in blue.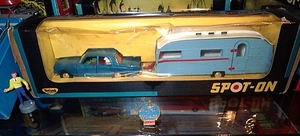 I have many complete Dinky trade box sets, most are post-war, but here is a beautiful pre-war set of #30A Chrysler Airflow Saloons.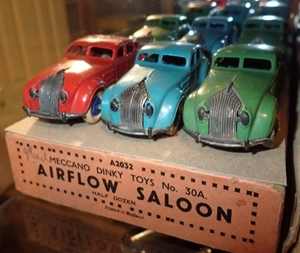 And to finish off this blog, here is a variety of Corgi 211 Studebaker Golden Hawk models. Recently I saw that QDT offered for sale a non-mechanical version in white with gold wings, whereas normally these colours appear only on the mechanical version. I also have this same version (it is in the front of the photo), so clearly more than one of these was produced. Interestingly, the chassis shows the model to be 211S, though it doesn't have spring suspension. Behind that model, is the more typical mechanical version in white with gold wings, and then just to its right is an all white mechanical version, including the wings! While not mint this is a very intriguing model and possibly one of a kind. I don't know if the wings were painted with a sprayer or by hand, but either way, that detail was left off when this model was produced. In front is a blue version of the Corgi Studebaker produced by Milton of India. It has a remarkably good finish for an Indian diecast model of that era. And in the back are the three regular issue Corgi Studebakers, in blue, gold paint with white wings, and gold plate with white wings. Of all of these, the gold painted model is the nicest, the colours really complement the design of the Studebaker Golden Hawk.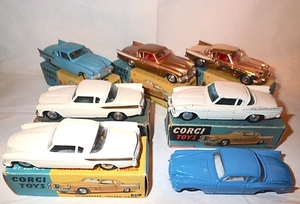 I know I skipped around quite a bit in this blog, but perhaps QDT customers will enjoy seeing these models from my collection. Hopefully over the coming winter I'll have time to write the next blog.
---