The Lake Collection from the U.S.
We were thrilled to make the acquaintance of this dedicated lifelong collector in the U.S.
"My collection comprises 3000 – 4000 (I lost count) vintage diecast models from many different manufacturers, dating from the early 1900's to the 1970's".
The owner of this unique and remarkable collection would like to share his article with you.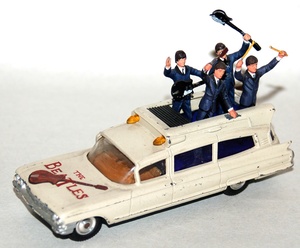 We would be pleased to refer any comments to the owner.
We hope that you enjoy this article just as much as we did at QDT!
"I have been collecting 1/43 scale diecast cars for pretty much my entire life. I can remember when the collecting 'bug' first got me, I was perhaps four or five years old, and saw Corgi cars on display in a fine toy shop. They were expensive for the time, costing more than $1 each, but with a bit of persuasion, my parents began buying these wonderful toys for me, and the hobby started.
As a child, I had many of the most popular Corgi TV and movie models, such as the James Bond Aston Martin, Batmobile, Green Hornet, Monkeemobile, Man from Uncle, Chitty Chitty Bang Bang and The Avengers set. I also had a nice collection of regular Corgi cars and trucks, including several transporters. These were all played with, as was appropriate for child's toys. Some survived with only minor wear, such as a Beatles Yellow Submarine that I received when the Beatles were still actively recording. I still have these childhood Corgi models, which were perfect for when my own children wanted to play with these marvelous toys.
Unlike most children when they transition into their teenager years, I kept collecting. The 1970's were generally not a golden age for diecast production however. Corgi and Dinky moved away from authenticity, prompted by the success of Hot Wheels, and that really bothered me. While I did buy some whizzwheel Corgi models, they were not to my liking. Rather, at the time the Solido and Schuco models were more authentic, and I began collecting those. I still have all of those models in mint boxed condition, though they never ended up becoming highly collectible, with a few exceptions.
I started serious collecting as an adult in the 1980's, and have been building my collection continuously since that time. All in all, I have a collection of approximately 4000 diecast models, dating from the early 1900's to the 1970's. Within my collection are many rare and desirable items, a few of which I'll highlight with photos in this blog post.
The oldest diecast cars in my collection are Tootsietoys. In fact, as I understand it, the first diecast car ever made was in 1911, by Tootsietoy. It was a small saloon. I have three of them, all mint. I own many of the famous Grahams and LaSalles that Tootsietoy produced in the 1930's, which were the inspiration for the 24 series of pre-war Dinky toys. One of the most special Tootsietoy items I own is a special gift set of Grahams that was sold as a souvenir set only at the 1933 World's Fair (Expo) in Chicago. It was owned by a very famous collector, Gates Willard, who passed away in 2006. I purchased it at a Lloyd Ralston Gallery auction. Here is a photo, it is the only example of this set that I've ever seen: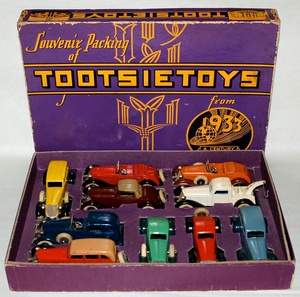 My collection includes a wide and diverse array of diecast car manufacturers. Among the brands in my collection are Corgi, Dinky (England, France and South Africa), Spot On, Tekno, Taiseiya (Cherryca Phenix and Micro Pet), Model Pet, Diapet, Prameta, Lemeco, Gasquy, Mercury, Polistil/Politoys, Tootsietoy, Nicky, Buby, Gamda/Sabra, Solido, and others I'm forgetting.  With few exceptions all items in my collection are mint boxed or almost mint boxed.  I have almost all of the gift sets issued by Corgi.  There are many rarities in my collection. One example is the Beatles Cadillac, featured in the Great Book of Corgi and formerly owned by Marcel Van Cleemput. I purchased it at the Sotheby's auction of Van Cleemput's collection in 1999. I had always admired this model when it appeared in the Great Book of Corgi, and I was thrilled to be able to own it, one of a kind in the world, and of such appeal to both Corgi and Beatles collectors. The four Beatles figures, which are made of soft white metal, are particularly remarkable, because you can actually distinguish and identify the faces of John, Paul, George and Ringo on the figures! As the Corgi folklore goes, this model was proposed to Corgi management, who rejected it because they considered the Beatles to be a passing fad.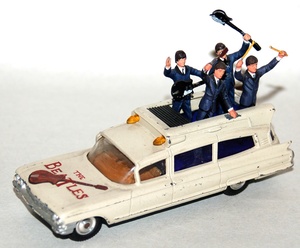 Among other Corgi rarities that I own are two of the elusive Gift Set 45 All Winners sets, with the gold James Bond Aston Martin. One of the source books on Corgi questioned whether this set was ever produced, but indeed it was. What is interesting to note is that Gift Set 45 was produced after Gift Set 46, the 'regular' All Winners set. This is identifiable by the over-label used on Gift Set 45. An over-label was also used on the second version of Gift Set 46, which replaced the Marcos Mantis, Ford Mustang and Chevrolet Corvette Stingray from the original Gift Set 46 with the Oldsmobile Toronado, Chevrolet "Crazy Bones" Corvette Stingray Stock Car and MGC. All these changes were also identified on the side labels.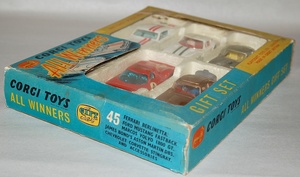 Among the other Corgi rarities that I own are several of the elusive FAO Schwartz sets. These were made up by Corgi U.S. distributor Reeves International for Christmas season. They are extremely hard to find. Enclosed are photos of the 'Racing' set and the 'Five Bug' set.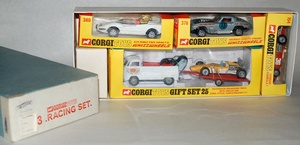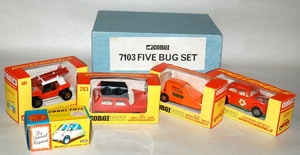 I have at least one other FAO set not shown in these photos. But even rarer than the FAO Schwartz sets, and probably unknown to Corgi collectors worldwide until this moment, is that Reeves also produced at least one special set for another major U.S. retailer, Marshall Fields. Take a look at this photo of the Highway Patrol Set (with the word 'Hiway' abbreviated!). Among the interesting aspects of this set are the substantial time variation between the release dates of the normal issues of the Chevrolet Impala Police Car and the Oldsmobile Toronado, and the generic box used for the Impala. There must have been excess stocks of this model in the U.S., and possibly the boxes were stamped Stateside rather than in England?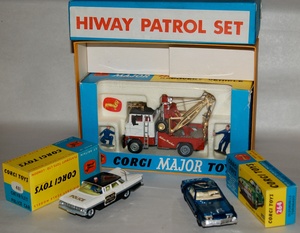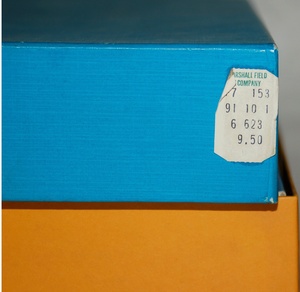 On the topic of rarities, some of the most desirable items in my collection are not original Corgi Toys, they are Code 3 models made by the master model maker James Reid. James would produce only one of each model, and they are all masterpieces. I've purchased almost everything he has produced. Sadly, James is not making models any longer. There is nothing that captures the spirit of the original Corgi models as closely or enthusiastically as JSR Code 3 models. Over the coming months I will post more of his creations on this blog, though for now take a look at these two.
The first is a re-creation of the Rolls Royce owned by Auric Goldfinger, made of solid gold (the movie car, not the toy!), replicating the scene when the gold was being pulled off of the car. In addition to the ingenuity of how this model was made, the display base is made from the same burr walnut used on real Rolls Royce dashboards.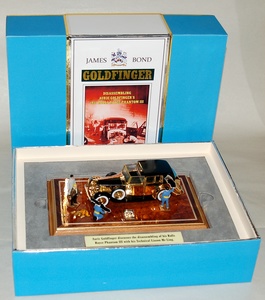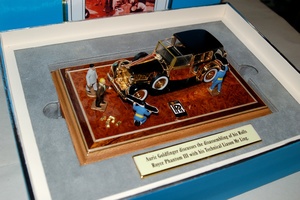 Another of James Reid's amazing creations is this Corgi "Golden Decade" gift set, which captures the spirit of a full decade of Corgi Toys. Look at the detail on the psychedelic Mini!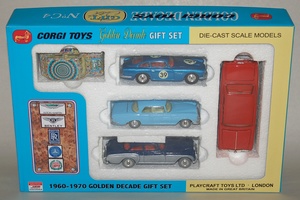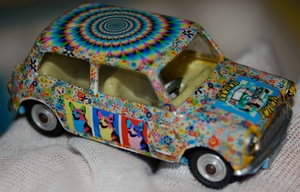 I will close this first post with photos of a unique set of Dinky displays. These were specific to the U.S. market, and as such, they featured both British and French Dinky Toys. Displays of this nature would not be found in England or France. Both were from a toy shop in Chicago, and date back to the late 1950's. Both displays are totally original, all the models are wired onto the displays, and all are in mint or near mint condition. It is amazing that these displays and the models survived fully intact for so many years. And they came with the original bill of sale from the shop that sold these displays to their first collector-owner.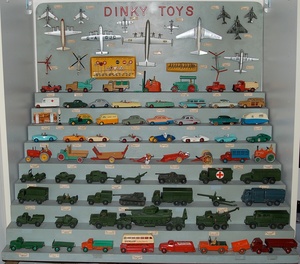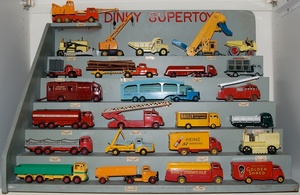 I hope these stories and photos have piqued your interest. There will be more to come in future blog posts, including diecast rarities from many countries around the world.
---