'Firsts for QDT' during 2015
Reflections on 2015 – another great year at QDT – and the sight of new models that we have never handled before.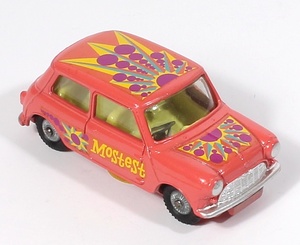 Selling Dinky and Corgi toys for over 35 years, we have seen many examples of the same model, albeit in varying conditions. It amazes us to think that we have packed over 50,000 models in the past 19 years of mail-order!
What keeps our business fresh for us are the collectors we meet along the way and also the fantastic array of collections that have been carefully assembled, often over decades.
This past year has seen 'new' collections coming our way and we marvel at the fact that, although we have probably seen more models than most, each week, each month, something new comes our way. We see a subtle or obvious variation on a familiar model, a new piece of promotional literature, or new card stand that we have never seen before!
So at the start of 2016, we take a moment to savour some of those memorable 'First for QDT' models that have intrigued us during 2015.
A year in the life of

QDT

FIRSTS

!
JANUARY
A real beauty, this rare early Dinky tinplate Filling Station with exquisite lithography and a near-perfect box made for a memorable start to 2015.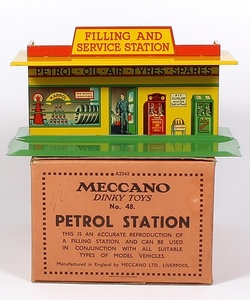 So difficult to find in presentable condition, we felt privileged to handle a small collection of pre-war Dinky vans including this beautiful PICKFORDS VAN, with intense pigmentation, gold lettering and purple-washed wheels.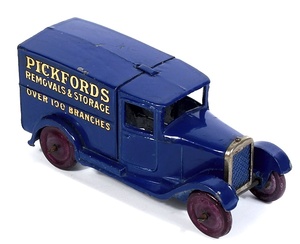 It is always a thrill to handle prototype pieces and this prototype of Corgi 266 Chitty Chitty Bang Bang with original hand-painted figures was no exception.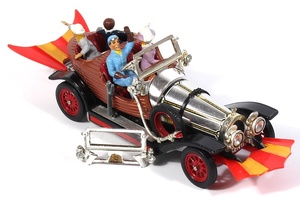 We may have sold quite a few Corgi 272 James Bond 2CV models in both lemon and deep orange-yellow but a full counter pack of 24 models was a first for us!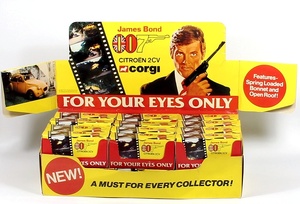 FEBRUARY
This classic Dinky Gift Set from 1957 – an iconic Gift Set – and certainly the first we have handled in this authentic, complete condition: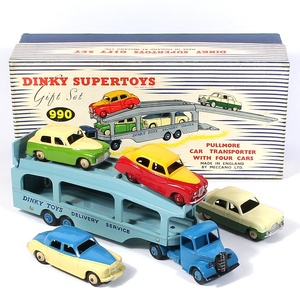 We had never heard of these special issue Peugeot models for the French Presidential election in 1981- extremely small numbers were made – how exciting to get all four at once: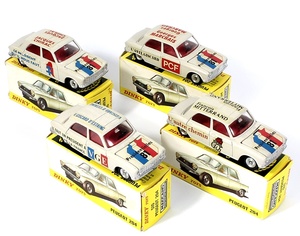 We thought we had handled all the variations on Dinky 100 Lady Penelope's FAB 1 – both models and boxes – but not so, we have to add this black interior version to the list of available variations!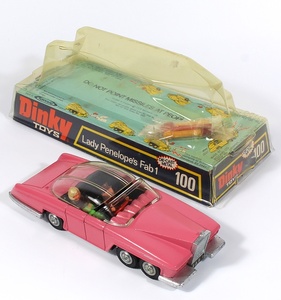 At first glance, this is an unassuming model – a familiar VW model finished in yellow and black. However, this version (Dinky number 260) is an exceptionally difficult German export version – almost impossible to find!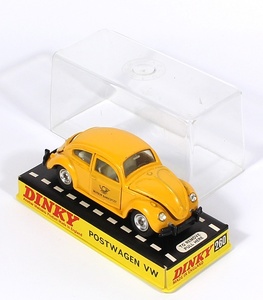 MARCH
A rare and sought-after 3-piece Gift Set from Corgi presented in the fragile card and cellophane box ensured that few survived! How many children would bother to keep the box – carefully extracting models and then returning them to the fragile yellow plastic inner?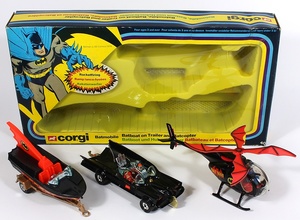 Another rare Batman-related set for March – an authentic red-wheeled Batmobile in this two-piece set. A first for us – and we find it hard to believe a better example exists. Hotly-contested and 'open to offers', this set sold for over £2500.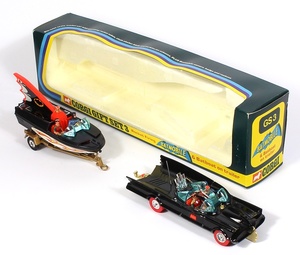 Another Corgi prototype was sold at QDT during March – Corgi Gift Set 36 Tarzan Set.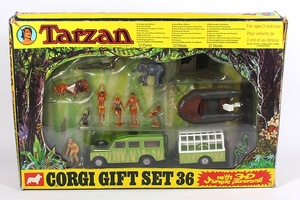 Placed alongside the production issue – we spent several minutes playing "Spot The Difference" and found more than 8 differences between the prototype and the production issue. Most notably, the prototype has painted metal figures, whilst the production issue has plastic examples.
A poignant special issue model was given out at the National Sporting Club Dinner with Graham Hill as the honoured guest on November 24th 1975.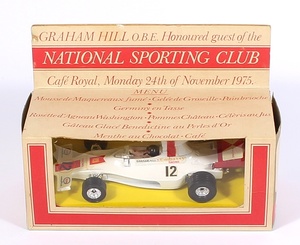 Tragically, just 5 days later he was killed in a plane crash.
APRIL
All French Dinky Junior models are pretty difficult to find – a budget-range of simply made models, they were not a great success at the time. This Opel Kadett in lemon-yellow is especially scarce: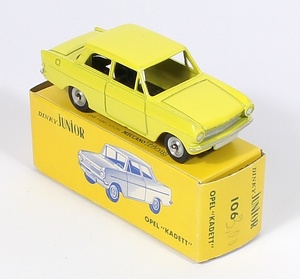 An endearing and scarce early Dinky set – a very rare pre-war survivor – and the first we had ever seen!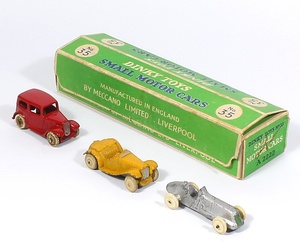 Dinky 120 Jaguar models are not especially difficult to find – but unusual to find the original Trade Carton – how strange that the shopkeeper at the time did not sell all 6 from this carton! Perhaps he kept these 3 examples for himself…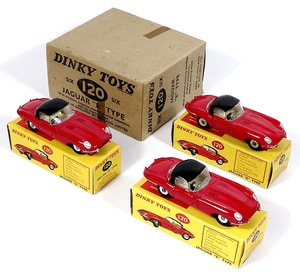 The first Trade Pack of 6 x James Bond Aston Martin models we have ever handled. Realistically, we do not expect to find any more!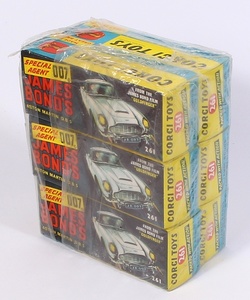 MAY
The Mercedes Truck & Trailer Set (issued 1968-74) is a fairly common sight in blue and yellow. Not so this promotional example for the 'MÜNSTERLAND' freight company finished in green and cream.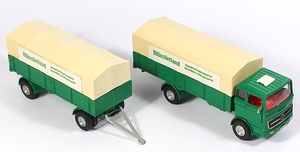 A small but important detail can make all the difference! Note the bright green colour of the stripes on this Marcos – extremely rare to find – usual example has deeper green stripes.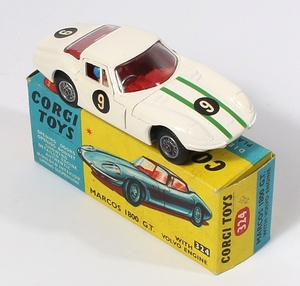 We marvelled at the freshness and vibrancy of the illustrations on on this exceptional Mercury Gift Set: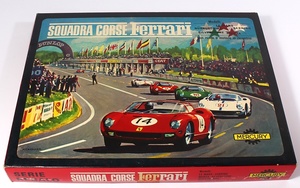 A completely unused set cherished by a collector from San Francisco. During the 1974 earthquake however, one of the drivers lost his head. It was still loose in the box, so technically the set is still complete!
Items from The Monty Calme collection were often purchased close to the original source, none more so than these rare Corgi Junior promotionals, each with unique liveries, and given to the original owner as a child by his uncle who worked in the Quality Control Department at the Swansea factory. Monty was pleased to get them years later!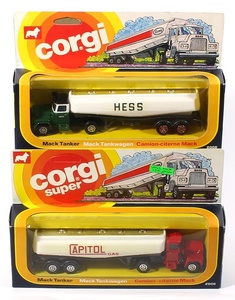 JUNE
This rare promotional Minic model for ATCO MOWERS was a real delight – and one of a lifelong collector's treasured possessions.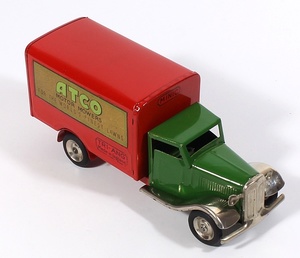 A startling Corgi 303S Mercedes model has a gold mirror-finish with detailed cast wheels.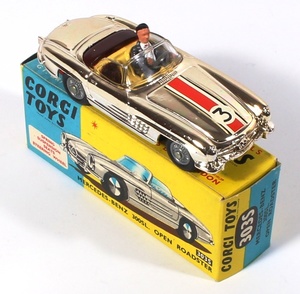 An exceptional example of French Dinky 588K 'KRONENBOURG' Beer Lorry came to QDT from Australia during June. We may have handled another in the pre-internet days, but we do not recall one in this condition!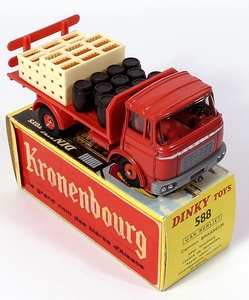 This exquisite Tekno Lincoln Continental in sea-green and black is difficult to find and makes an arresting display piece.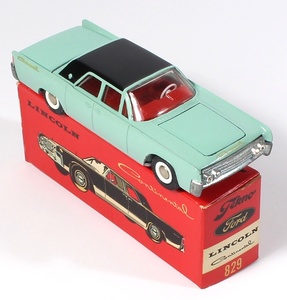 JULY
What a beauty! This TOGI Alfa Romeo Spyder was a first for us: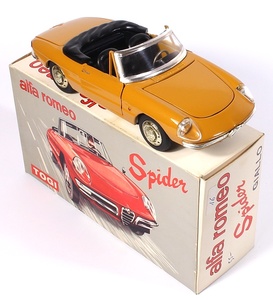 This French Dinky Chrysler New Yorker was a welcome sight – particularly difficult to find with concave wheels: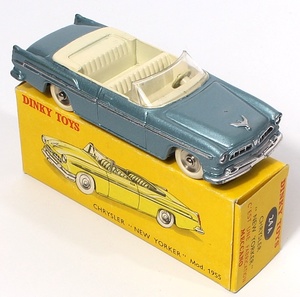 Another rare item, this fine Dodge Royal Sedan has silver-painted cast wheels – from the Eric Slager collection: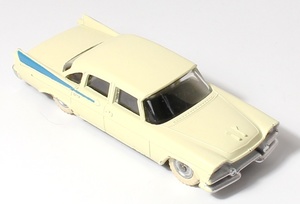 This French Dinky BAROCLEM model is rarely found in this complete and authentic condition: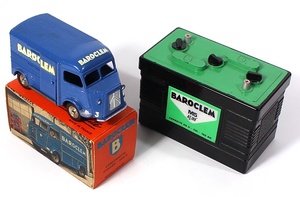 AUGUST
Another precious prototype, originally the property of Marcel Van Cleemput, this quirky Dragster model has 'WILD HONEY' labels and was sold through Losch Auction House, Germany in 2000: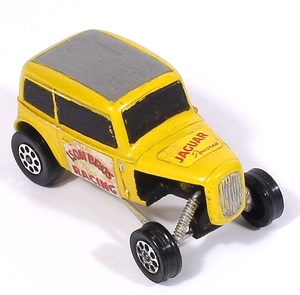 Corgi 150S Vanwall F1 Car (suspension version) with VANDERVELL labels (Tony Vandervell built the car driven by Stirling Moss) and racing number 20. As if that weren't enough, the West London Collector included associated Literature, video, period Vanwall badge, and display case with plaque.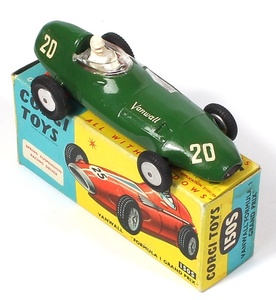 Spot-on models are especially sought-after and none more so than this colourful Tractor – we have never offered another for sale!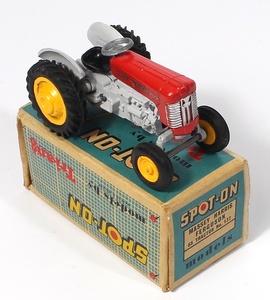 One of the models we will surely never ever forget – the rare Mini Mostest, a trial sample piece in PINK from the magnificent MBU Collection.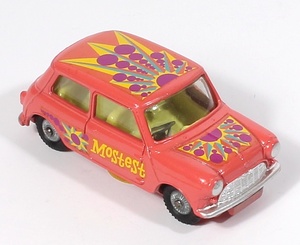 Another Mini from this collector – if not quite so rare! A Maxwell (Milton) model of Corgi 226 Morris Mini Minor (using the casting from the Corgi model):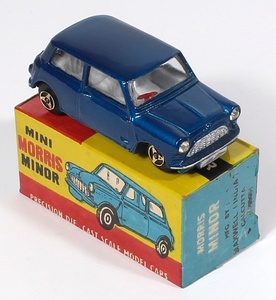 SEPTEMBER
With the MBU Collection gathering pace in September, we were thrilled to handle:
The Prototype of Corgi 507 Chrysler Imperial Bermuda Taxi. Sadly, this model never went into production in these colours or with this roof fitting.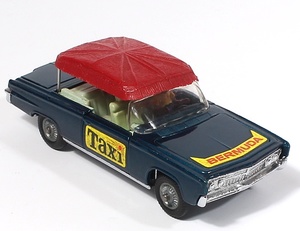 Corgi 318 Lotus Elan S.2. – colour trial version in BRONZE with 'Tiger' logo: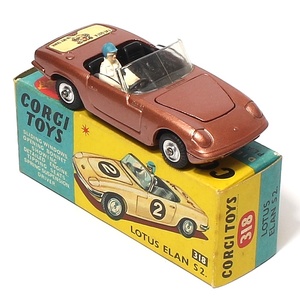 and Corgi 290 Kojak Buick Prototype, in white metal, with accompanying pre-production notes (so rare to find!).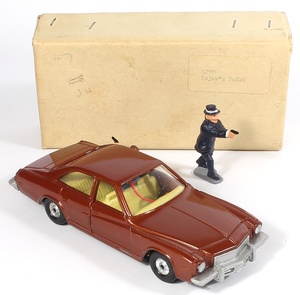 This stunning French Dinky Set from The Compton Collection was a very welcome addition to our September offerings: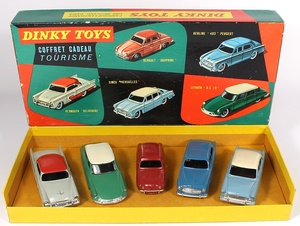 OCTOBER
This month started with another memorable model from The MBU Collection. This VW Pick-Up Truck is so eye-catching finished in bright gold with a red canopy.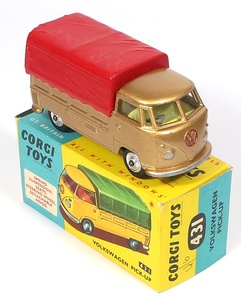 Attractive and rare in equal measure, this Ghia-Fiat Jolly is an exceptional model in metallic mid-blue: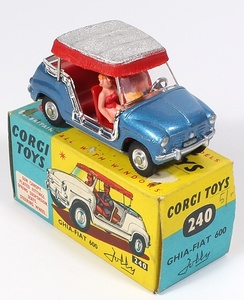 What a striking period display piece this is – and the first we have ever handled: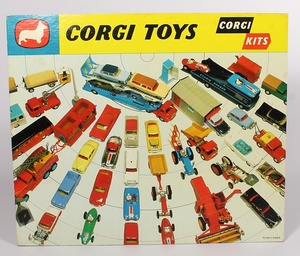 Another exquisite model – Corgi 222 Renault Floride. Colour trial in COPPER. Sold at auction, as part of the property of an ex-Corgi employee. Never released in this colour.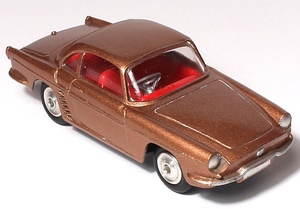 NOVEMBER
Dinky models from The Reference Collection make their appearance at the start of this month – and this has to be one of our favourite display pieces – ever!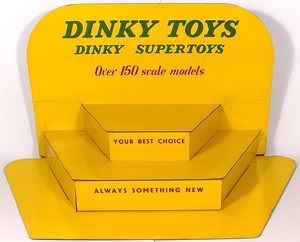 Along with the MBU Collector, we believe this Military Ambulance with Red Cross TRANSFERS is unique. This version has transfers (not paper labels), just like those used for Corgi 437 Superior Ambulance in blue & white, issued at the same time.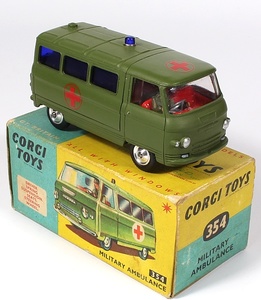 Surely, this award ranks as one of the most memorable items ever sold at QDT. Impressive presentation cylindrical container in Royal Blue with silver print 'THE QUEEN'S AWARD TO INDUSTRY ' with Royal Crest. Inside the cylindrical container are two Queen's Award To Industry Scrolls (1966 & 1967). Formal presentation documents with Her Majesty's signature and also signed by the Prime Minister of the day Harold Wilson.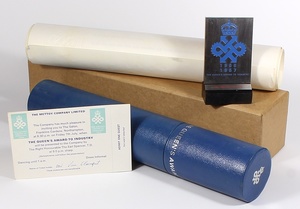 Prototypes of classic Dinky commercials rarely come to the market place. This prototype of Dinky 533 Leyland Comet Cement Wagon "Ferrocrete" from 1953 creates another memorable moment (courtesy of The Reference Collector).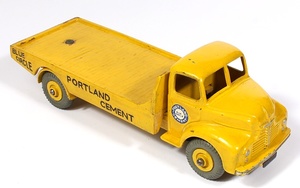 This trio of beautiful Corgi 'ITALIAN JOB' Mini models from The MBU Collection will not be easily forgotten either: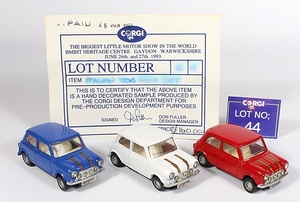 DECEMBER
We appreciate the range of variations of each model from The Reference Collection – this inevitably brings rarities to the market-place – like this Leyland Comet Wagon in Royal Blue & POWDER BLUE.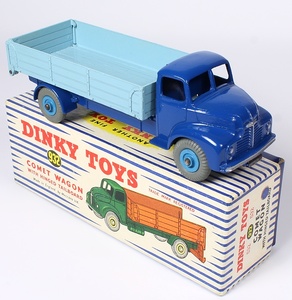 and this Dinky 435 Bedford TK Tipper Truck in yellow, with a black roof, silver & yellow back, and BLUE plastic wheels.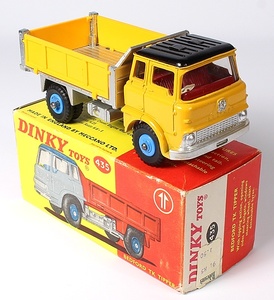 The Daylight Collection has just started at QDT and in the first instance we were treated to some rare Spot-on models including this RAF Land-Rover: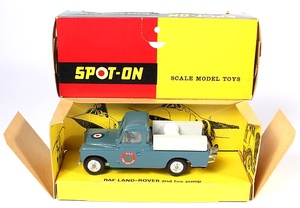 and this Sunbeam Alpine: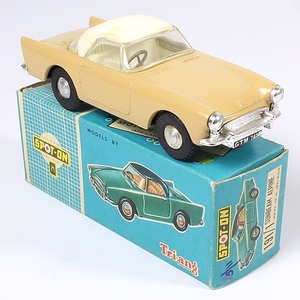 MODELS THAT WERE NOT FIRSTS FOR QDT (but still pretty remarkable and had to be mentioned)!
Corgi 251 Hillman Imp 'JENSEN'S', with Leaflet. Rare Danish promotional model from The MBU Corgi Collection: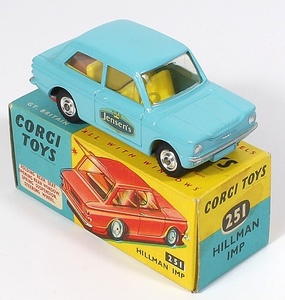 Corgi 310 Chevrolet Corvette Sting ray in COPPER: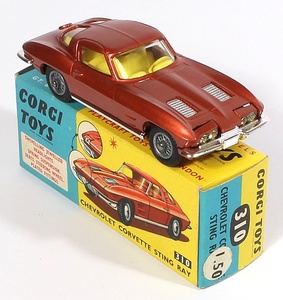 Corgi 416S Land-Rover 'TOURING SECOURS' (T.S.) Exceptionally scarce Belgian version of the RAC Land-Rover with suspension. With 'TOURING SECOURS' label on the box: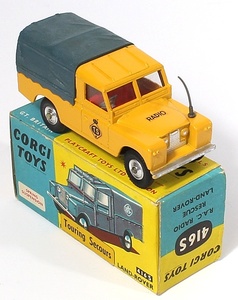 Corgi 277 Monkeemobile, with HEADER CARD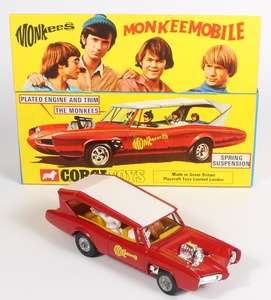 and Dinky 148 Ford Fairlane in bright mid blue, a very rare South African model: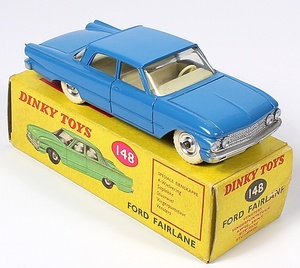 Please note that you can view the full listing of any of these models in our archive.
We welcome 2016 and we would love to hear from any collectors who are considering selling or thinning out their collections this year.
---