Dinky Commercials from The Reference Collection
An 'encyclopaedic' approach to collecting Dinky – from a collector of many years standing who has assembled a truly astonishing array of Dinky models as he endeavoured to catalogue the variations of each model as it alters during its production life.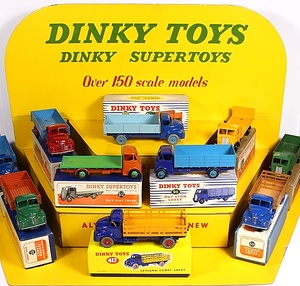 A few words from the man himself:
All I have ever wanted to do is get the best and most original Dinky that I could. I have always been fascinated by the way the models and boxes "developed" as production continued and the variations that resulted. Frankly, only by studying this can you be sure that the model and box are correct. There are so many wrong combinations around nowadays that were simply never together when new. I also sought to get all the relevant packing and literature whenever possible – these all add greatly to the enjoyment and look of the piece.
Thankfully, I started collecting around 30 years ago, when the hobby was less popular, so I was able to acquire a good many pieces at affordable prices and since then have upgraded whenever I can. Nothing beats the thrill of seeing shop stock pieces that have lain untouched since new and even now the occasional find is uncovered.
A selection of Dinky Leyland Comet Lorries with Hinged Tailboards, issued under the numberings 532, 932 & 418. In production from 1952-59.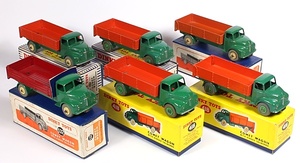 Note the rare powder blue variations x 2: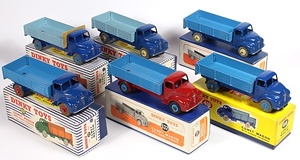 An array of Dinky Guy Flat Trucks with Tailboards (513, 913, 433, issued between 1947-58) – the rarest being 913 in yellow and green with green wheels.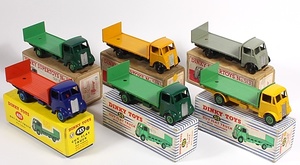 Issued under the Dinky numberings 512, 912 & 432, between 1947-58. Guy Flat Trucks were issued in several different colours – the rarest from this group being the Khaki issue with green wheels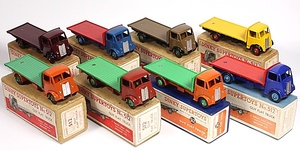 Dinky Leyland Comet Lorry with Stake Back was issued under 531, 931, 417 numberings between 1949-59. Note the version with a light green back is the rarest of the group, with the tan back versions coming a close second.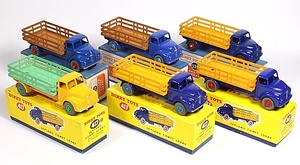 Dinky Guy Wagons (511, 911 & 431) were issued between 1947-58: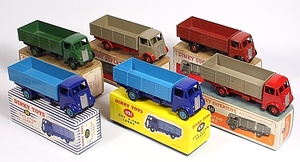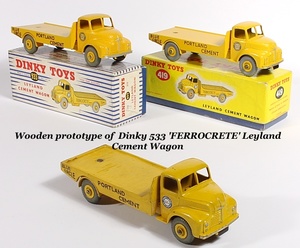 One of the most remarkable Dinky Display Stands – we surmise from an original Toy Show during the 1950's or from one of the largest Dinky shops.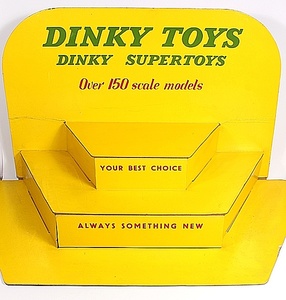 Items from this collection will be available at QDT during the coming weeks and months.
---