The MBU Collection
An important collection of high quality Corgi models is to be sold at QDT. This collection includes some extremely rare items, pre-production, colour trials, promotional and t.v. related models.
Here follows a fascinating article of the MBU collecting story written by the owner.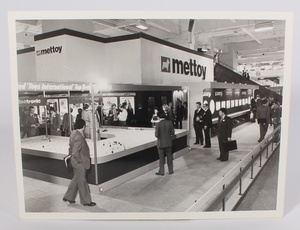 EARLY DAYS
I started collecting back in the early 1980's when I decided to take up kit making again as I was, and still am, a big motor racing fan, and had enjoyed building the Tamiya 1:12 F1 kits of the late 1960's. They were obsolete by then, so I combed the local and not so local shops and came across Modellers Loft in Caterham Surrey who sold me a copy of Collectors Gazette. I saw an advert for a chap selling obsolete kits in Addlestone, and at his invitation, went to the Farnham Maltings Swapmeet that weekend.
Apart from finding a couple of Tamiya kits, I was amazed at the amount of Corgi and Dinky on offer from the myriad of dealers in attendance. I was back in love with Corgi Toys and that same day purchased again some of my childhood favourites. I was officially hooked!
Over the next few years I mainly collected Corgi, and having owned a pretty big selection of both Corgi and Dinky as a child (which were swapped for Scalextric in the mid 60's), remembered preferring Corgi as they were so much more realistic and the working mechanisms were better engineered and innovative in my opinion. Dinky toys always had such big and ugly operating handles as on the Euclid Dump Truck D965. Compare that to the fine levers of the Corgi Massey Fergusson front loading shovel C53, the "hydraulic" rams of the various car transporters, and the amazing intricacy of the JB Aston C261. That's not to say I don't like or appreciate Dinkys, I still have quite a few in my possession.
TOY FAIRS
I had by now started taking tables at swapmeets in order to sell duplicates and unwanted toys in order to increase my collection and allow me to purchase better quality items. I made some really good friends whilst standing behind the tables and will always remember the funny/interesting chats I had with some of the dealers, David's father Gerry Reitsis being one of the more memorable characters! I also remember buying a number of Corgis from Carole and David over the years and was pleased to find them continuing to give collectors a great service through Quality Diecast Toys.
Most of the other dealers I knew back then seem to have disappeared, probably because of alternatives like eBay and of course QDT, but for me there is still nothing like negotiating your intended purchase at a toyfair and taking it home with more knowledge of the toy than you had previously. You can also spot a reproduction box or a "touch-in", both of which were rife in the early days of online auctions. I always thought that anything reproduction should be permanently marked or otherwise indicated as there is nothing worse than finding your new toy is not original.
I will always remember the time I was passing a dealer's table in Slough just as he was unwrapping a nearly mint Mini Mostest (C349).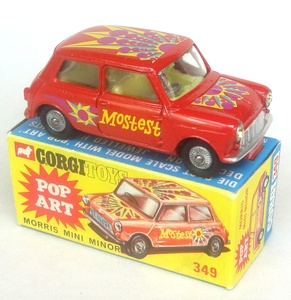 I said "how much?" as I grabbed the toy as calmly as I could, his reply "how about 20 quid?" had me shaking nervously as I whipped out a £20 note and paid him. To put prices in perspective, at the time a mint and boxed Corgi Man from Uncle C497 was £40 in Blue and £100 in the White!
Before the massive Donnington and even larger NEC fairs were started by John Webb and Dave Jowett, the 2 most prestigious fairs were Sandown Park and Windsor. To get a table at the Windsor Toyfair meant joining the Maidenhead Static Model Club and this required a visit to Model Road and Rail in Worcester Park and an interview with membership secretary, Les Duplock. I passed the test and vindicated myself a year later when I became the Secretary of the MSMC. Incidentally, whilst on one of my visits to MRR, I purchased a mint/boxed South African Dinky for £40 from one of their display cabinets, another bargain, proving even the experts could slip up occasionally!
The MSMC's Windsor Toyfair was probably the best place at the time to find mint/scarce/rare diecast toys, however the sodium lighting in the Sports Hall caused all sorts of visual havoc with colour and many was the time I headed home with what I believed to be a rare variation only to find in the cold light of day that I was sadly mistaken. I still regret passing on the mint Corgi C1107 Bulldozer in RED though, as I have never seen another!
Sandown Park was probably the most intensive of any UK toyfair I visited, the anticipation of what you might find there being overwhelming. Initially there was only one per year and everyone kept their best stock for this prestigious event.
NIGEL LOVELAND (pictured far right)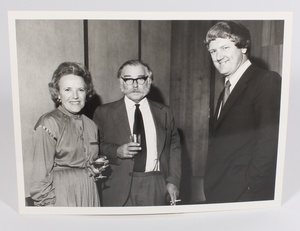 It was during a Sandown that I met and befriended Nigel Loveland. He was an ex-Corgi Sales Director, having started as a rep, and he had found himself an "office" instead of a table and was selling an amazing collection of the finest Corgi you had ever seen in one place. There were Silverstone Gift Sets, Chipperfield GS23's, Racing Car Gift Sets, Agricultural Gift Sets, shrink wraps of Police Mini-Vans, Safari VW's etc etc. Unbelievable, and a sight I shall never forget! I missed out on the retailers' counter display of 12 C336 JB Toyotas but managed to persuade Nigel to let me know what else he had and to give me first refusal. Over the next year or so he would regularly call me to arrange a meeting where I would buy whatever he was offering. He stopped selling when he decided to keep some back, correctly predicting an even bigger rise in the popularity and price of Corgi Toys, but promised another "cull" further down the track. Unfortunately I never heard from him again and sadly I only recently found out that he had passed away in 2011.
AUCTIONS IN THE '80's & EARLY '90's
I also began attending auctions and this is where I usually found the best "gems".
Prior to the one item per lot events of the early 90's, the bigger houses would catalogue multiple toys in the same lot and it would take a complete day or more to view the mass of toys on offer. I soon learnt to spot the best lots and carefully mark my catalogue as to those I really wanted for the collection along with the maximum price I would pay (very important in the heat of the moment!). You could always spot the innocent newcomer standing right at the front of the crowd holding his paddle high in the air as the rascals behind bid him up to the his maximum and beyond!
It was a lot of fun but also hard work as by then I had joined forces with Brian Jones, who ran Modelers Loft, and along with a train specialist we raised the profile of that business to become a well-respected collectors' shop. We even had Jeffrey Levitt (of Mint and Boxed infamy) calling in as he passed by on his way to Maidstone Prison. He was serving his time on weekdays but allowed home for the weekends. He did this for about a year, still trying to deal in toys whilst jailed for masterminding a massive fraud dealing in toys! I did attend the Christies Auction where the assets of Mint and Boxed were liquidated and got quite a few bargains, so a belated thanks to Mr. Levitt.
Climbing the Corgi Ladder
After a while my knowledge of Corgi gained me a reputation amongst fellow collectors and the trade, especially in the TV related field, and in the late 1980's I was asked by Richard West to create and regularly update the Corgi price lists in "Model Collector". In the early 90's I teamed up with David Baxter to make the first Corgi Videos using mainly my collection to film them.
THE GREAT BOOK OF CORGI & Marcel Van Cleemput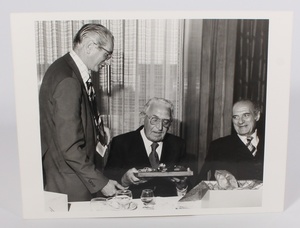 Marcel Van Cleemput (far left):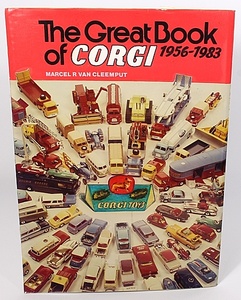 And again, on the left: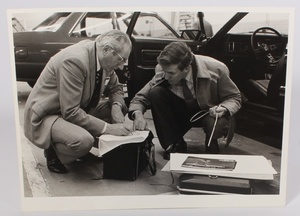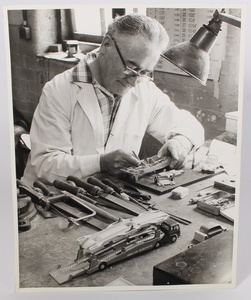 I would have gone on to produce more but The Great Book of Corgi was published and sales died. I did however help to obtain some of the more ordinary toys that Marcel Van Cleemput required to illustrate his new book, and in return received quite a few personal items from his office such as a variety of "The Queens Award to Industry" paraphernalia, internal memos, and letters from keen Corgi Club members suggesting things Corgi might make in the future. Some of this history makes interesting reading and will appear on QDT's listings when the time comes.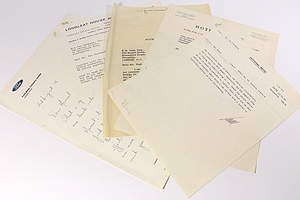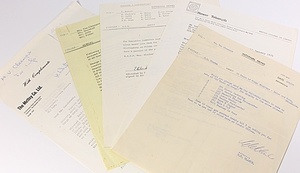 THE CORGI STAFF SHOP!
I have vivid memories of obtaining each and every one of the really special pieces in my collection. One particular one concerned how I was able to buy 5 very rare colour variations and pre-production toys from a dealer who had attended the one Sotheby's auction (at Billingshurst) I had missed. He did not realise that he had these rarities and unwittingly sold them to me for the price of the ordinary versions! Apparently the auction included the toys from an ex-employee of Corgi who had obtained most of them from the staff shop. This shop was where all sorts of things ended up after colour trials and ideas had been signed off, a fact that Nigel Loveland confirmed when I quizzed him about the authenticity of my C349 Mini-Mostest in PINK (with no jewelled headlamps). How many other oddities did I miss at this auction and where are they now?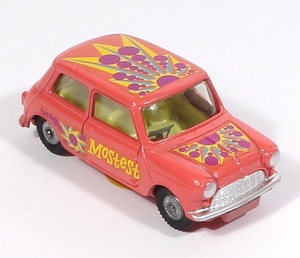 Another interesting fact that came from Nigel (remember he was a Corgi sales rep to begin with) was that the majority of new releases were usually finished in the colours depicted on the box, hence the Yellow VW Pickup C431 with Green Tilt, the halfway split yellow/blue of the C422 "Corgi Toys" Van, the red sills of the first batch of the C325 Ford Mustang Competition, the C151 Lotus XI in red, etc etc, so have we ever seen a green C330 Porsche, a white C471 Joe's Diner, or a blue C260 Renault R16? … Not yet!
There are also 11 very different colours confirmed on the C238 Jaguar Mk X, surely the most prolific of all Corgi colour variations? It was the unique Mike Rooum that showed me the complete set of these Jaguars and I bought most of them from him in the end. What a salesman and also one of the nicest men in the toy business. It was certainly a surprise when on one of my trips back to the UK I found my elder brother working for him in the West London shop he had relocated to after giving up his spot in the Grays Antique Centre. Along with diecast toys Mike had specialised in Transport memorabilia and my brother was and still is an expert in this field.
Talking of nice chaps, you could not have wished to meet a more knowledgeable and friendly couple than Mike and Sue Richardson. When I got to know them well through the MSMC (they were founding members and lifetime presidents), they invited me to their home in Eton and we would chat for hours about toys. It was enlightening and a lot of what we know about the history of diecast toys, Dinky in particular, is courtesy of these two amazing people. They will always be sadly missed in the toy world I am sure. I still have a few items in my collection that came from Mike and Sue and they will be listed by QDT when the time comes.
AUSTRALIA, QDT & SAVING THE BEST
I sold the vast majority of my collection in 1995/6 to fund my emigration to Australia, but kept most of the TV related toys and certainly all of the pre-production and special colour variants that I owned and loved.
Here are some pictures of some items from my collection: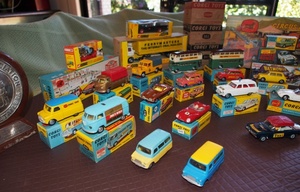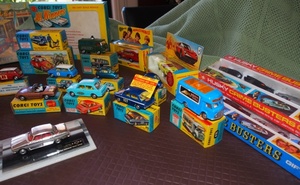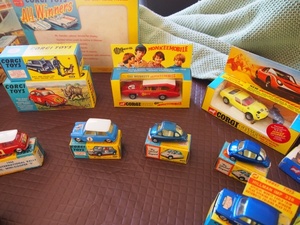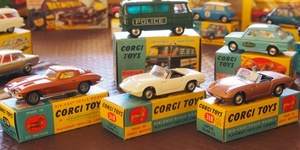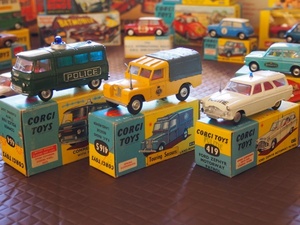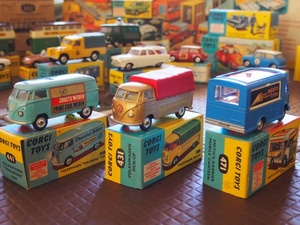 Having followed the exploits of QDT for the last year or so whilst researching the best place to sell the rest of my collection, I realise many more Corgi variations have been discovered and had I continued collecting, would still be broke after attending Marcel Van Cleemput's Sotheby's 1999 and The Losch Auctions of 2000!
I know that my toys will be carefully and expertly handled by QDT and that they will ultimately find their way into the care of new guardians who will no doubt continue to enjoy some of the rare and valuable pieces that took me a lot of time and effort to collect.
Best wishes to all of you who collect and enjoy the various diecast toys of the last millennium.
MBU.
---