The BST Dinky Collection
30 years collecting Dinky Toys – a personal account from the owner of The BST Collection – now being sold though QDT.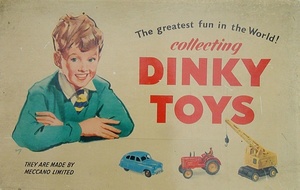 "It must have been 30 years ago when I went to the loft to clear things out. While I was busy doing this, I found three old Dinky Toys in a box which belonged to my wife. No Dinky Toys were left from my youth as I had younger brothers who inherited mine".
Where it all began
"Looking at these 3 Dinky Toys and holding them in my hands one by one, brought back some wonderful memories!"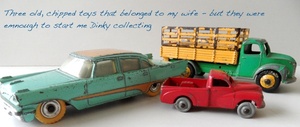 Happy childhood memories – but I should never have cut up Dinky Toy boxes!
"I remembered what a joy it was playing with Dinky Toys and how I was thrilled to bits when I received a new model for Christmas or my birthday.
When I received a new model, I have to confess that I cut the picture of the model out of the box! I shudder to think of it now, of course; I would glue these pictures onto a matchbox so they could stand on their own and placed these little treasures on the shelf beside my foldaway bed. This was my way of collect Dinky Toys back then, because the models themselves were for playing with!"
A Dinky Collector is born
"When I came down from the loft, a new hobby was born. I did not realise this straight away, because I was only intending to buy the models I had as a child initially – but this changed quite quickly. 
This was just the start of a very pleasant hobby that, in fact,  lasted over 30 years."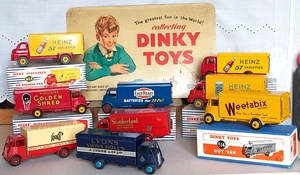 Early collecting days
"Within a year, I was lucky enough to find the models I could remember from my
childhood; they were chipped without boxes of course but that didn't seem important, back then". 
They have to be mint – or as near as I could get!
"After a while, I changed my mind and started thinking that it might be nice having them as new and in a box! I say 'as new' because I had not heard of the word mint back then. And without knowing it, that was the big turning point – at that very moment I turned into a devoted collector".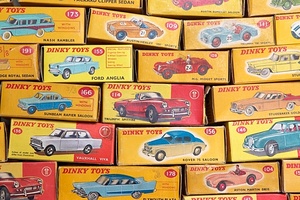 "Over the past 30 years, I have visited many auctions and toyfairs but visiting old toyshops and second-hand shops was the best fun.
You just never knew what you might find – in fact, I was very often surprised by the finds in the 80's and 90's".
Dinky Finds in the 80's and 90's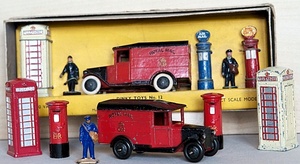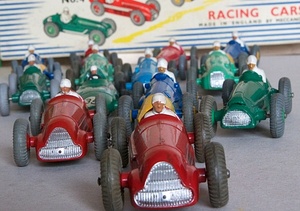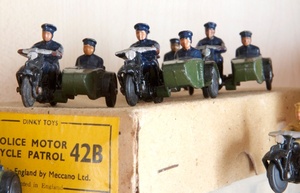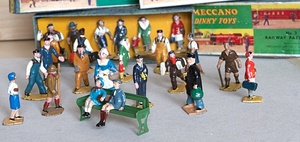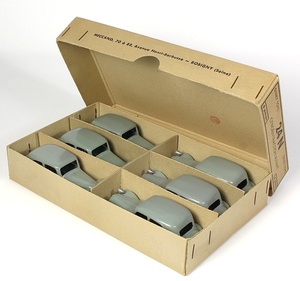 Memories I treasure
"Here are a couple of my best memories!  
A toyshop in the place where I was born was closing down and as luck would have it, I happened to be visiting there at that time. This was the shop I always bought my Dinky Toys from when I was a little boy and I do remember the yellow wall of boxes when there was a new Dinky Toys release. 
The toyshop belonged to 2 middle-aged spinsters always wearing white pinafores. 
I asked the ladies the same question I asked in all the shops I visited "Any Dinky Toys left?".
The answer was 'No' but then one of the sisters said 'Wait, a moment'. She went in the store-room and came back with an empty box for the French Dinky  50 Salev Crane. I was really taken by surprise – it just looked brand new, and included the insert and leaflet"!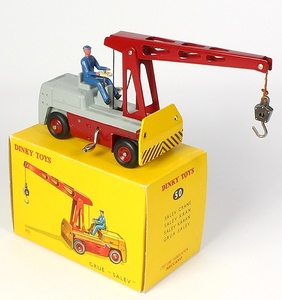 "It was the first time I saw one of these boxes without any punctures! The model was nowhere to be found sadly – but she gave me the box for nothing – since otherwise she would have thrown it away. 
I may have been in my 40's then – but I felt as happy as a child! 
I have never seen a better example of this item in my entire collectors life. 
Slowly I became convinced that the best place to ask that question "Any Dinky Toys left?" was the UK. So we went to the UK many times, visiting auctions, toyshops, second-hand shops, and post-offices with a little toy department in out of the way places. 
Naturally, we weren't always successful, but it was worth doing it. 
On one of our trips, we went to Liverpool, the cradle of Dinky, visiting a second-hand shop and of course I asked the question again. 
The shopkeeper took the Dinky Set No. 4 Engineering Staff off a shelf and
told me that he just bought this set from a man whose mother had passed
away recently.  For many years, she used to paint these models at the Meccano factory. This particular example she had kept in a drawer, only occasionally opening it and taking a look".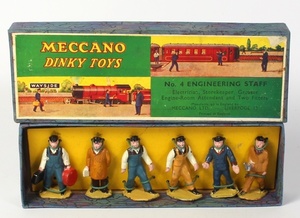 "I did not think that I could get any closer to the source. I still cherish this set. Understandably, it is very close to mint with very strong and vivid colours – but I cherish it most of all because of its history. 
I have many happy memories from all of these trips but these two stories I treasure the most".
Honing my collection – all those packing pieces, leaflets & accessories
"By going to the UK so many times trying to find Dinky Toys, we
developed another "hobby" and that is the love for the lovely English
countryside! We still go to the UK many times just for its beauty – we have
stopped poaching Dinky Toys because we find that there is nothing left in the places we used to visit. 
It was always my aim to find the best model possible – and this included trying to get it complete – so that means having the insert, leaflet and packing pieces, where appropriate. 
Many times I managed it but unfortunately not always. 
Now we are thinking about moving to a smaller house and, having no children as successors, it is time to say goodbye to something that was a big part of my life for almost 30 years".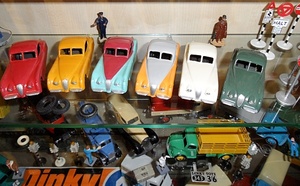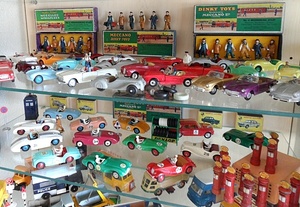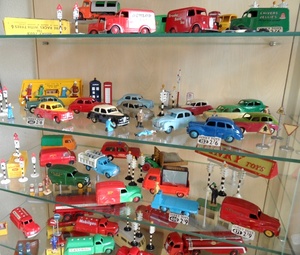 "In these years I met many enthusiastic collectors, some of whom became
friends, lots of dealers and many other people with a love for these nice little
toys. 
I will miss it but I will never lose the love for Dinky Toys and the 3
old Dinky Toys of my wife where it all started".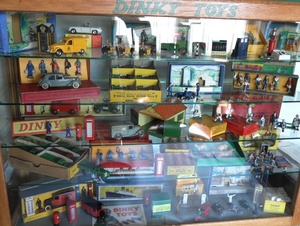 ---