California Dreamin'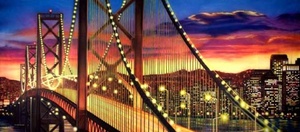 A look at the latest models just in from The 25 Year Collection, a personal account of his collecting history and news of what's coming next…
We enjoy receiving parcels from this most sincere and personable of collectors. Every month or so, we take a little time out to unpack each of his carefully-wrapped treasures and there are always one or two surprises in store for us, nearly always some variation we have not seen before or a model we have always wanted to discover!
This time was no exception.
But first, here are some words from the man himself!
"There are few things in life as much fun as finally finding that special diecast car, usually in a rare color or a particular variation, that has eluded your grasp for years. Being able to check off that empty box on your list of "most wanted" feels so good! It's even better when the box arrives in the mail, and you know what's inside. You carefully open it, unwrap it, and hold it in disbelief that you finally have it! A new and honored spot is made in the cabinet, and you park your new car to be admired…until you find the next one on your list!
Collecting diecast cars has been an avid pastime for me since I was a kid growing up in a small town in the 1960's.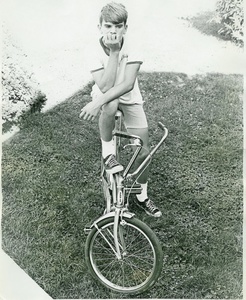 I pedaled my Schwinn bike down to the corner hobby shop every weekend looking for the newest Matchbox model. Every once in a while, I would even find one in a different color than normal. Nothing beat the quality of diecast toy cars. The smooth, bright, and deep paint finishes, realistic proportions, and even features like window glazing, interiors, and opening parts sealed the deal for continued collecting.
The more expensive Dinky and Corgi Toys were found only in department stores, and presented in large glass displays. Too far to bike to, I would have to wait until my mom wanted to go shopping, and I'd tag along and hang out in the Toy Department. Those displays full of colorful cars and trucks in a larger scale were so spellbinding. I thought Matchbox were cool, but having a Dinky or Corgi would be something special. Alas, I could never convince my mom that spending $2.00 on the newest Corgi was a better investment than the .50 cents spent for a Matchbox. Thanks Mom for the early economics lesson!
It wasn't until I started to make my own money, that the hunt started in earnest. Those Dinky and Corgi models that I use to only dream of having, were set clearly in my sights. Unfortunately, they were no longer found in the local department stores. Leafing through hobby and antiques magazines put me in contact with other collectors. I found clubs for similarly minded collectors and started sending out the "SAE"s around the world for lists. The collection grew, and with more knowledge of what was available, so did the wants list! Toy fairs were particularly fun and helpful. I met dealers from around the world who brought their little treasures in small briefcases, and made new friends with my same passion.
Over the years, the collection expanded to eventually include models from fine manufacturers like Marklin, Tekno, Solido, Mercury, and others. Quality has always been paramount when adding something new to the collection, and finding one with a crisp original box was always the goal. As I downsize my collection, QDT have been wonderful partners. Their friendly expertise and extensive experience make them the perfect team to share my collection with the world. Each car in my collection has a story behind it, and great memories attached to it. QDT know this, and carefully and respectfully handle each car as they present it so professionally for sale. Although it's hard to part with the collection, I feel I have thoroughly enjoyed the entire experience. From those early days going on the hunt on my bike till now, the passion and fun has never died. It's just time for my cars to be enjoyed by my fellow collectors!"
And in this latest delivery from across the pond?
Well, amongst his usual impeccable selection of Dinky toys, we unwrapped one of these rare commercials i.e. Dinky 989 Car Transporter 'AUTOTRANSPORTERS':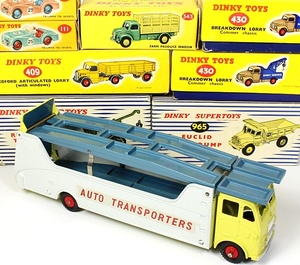 and this example is in a rather decent (and always so fragile) gold card and cellophane box.
We especially liked this exciting selection of speed and racing cars:
And most exciting of all, this extremely rare beast – and the first FAO Schwarz Gift Set we have ever handled! This particular version was made for Christmas 1967, we believe, and very few examples were produced.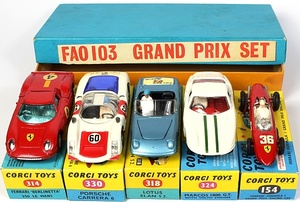 Very few of these Gift Sets were created and sold through FAO Schwarz Toyshop.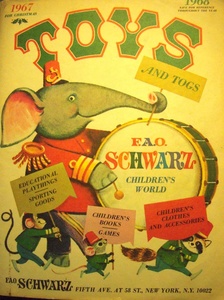 FAO Schwarz is not only the oldest toy store in the United States, but one of the oldest retail establishments of any kind. It has evolved from a toy store to a must-see tourist destination, and continues to be well-known for high-quality merchandise and timeless treasures. Throughout its more than 150 years, FAO Schwarz has carried on the tradition of serving as a stage to introduce new and exciting products to consumers.
We are delighted to bring one of the rarest Corgi sets to the market-place.
As mentioned in his toy collecting account, this collector did not confine himself to Dinky & Corgi models. A selection of a few models from other high quality manufacturers were included in his latest parcel: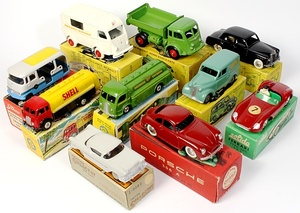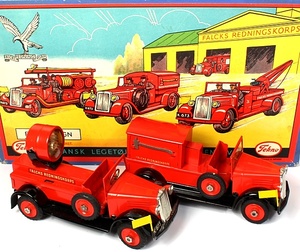 California dreamin'
We are looking forward to the next consignment from him. His words to end this Blog:
" I figure I have about 100 Dinky, and 200 Corgi left. I also have my favorites left of the Tekno, Marklin, Solido, Dalia, Mercury, etc… which I am hoping you can sell for me as well. They represent "my favorites" that I thought I'd never part with, but now seems like the right time for me."
---