Monty Calme Collection Part 3
Taking a look at some of the more remarkable items recently offered for sale from The Monty Calme Collection – prototypes, colour trials, and promotional pieces.
A world-class collection bringing to light some hitherto unknown Corgi rarities.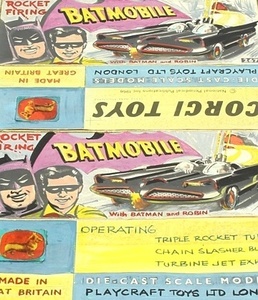 Quite simply, this collection continues to enthral us as it gives up some of its most remarkable individual pieces.
Prototypes & Colour Trial pieces – an unprecedented selection!
We are mid-way through this significant sector of Monty Calme's Collection, as we gain unparalleled access to some of the most precious items from this collector.
The Batmobile Prototype with original artwork received considerable international interest and very nearly ended up in the U.S. in The Metropolitan Museum of Art. An enthusiastic British collector secured it for £10,500.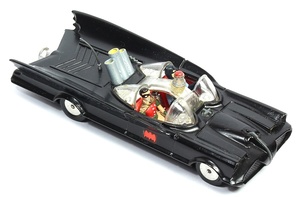 The original artwork took our collective breaths away!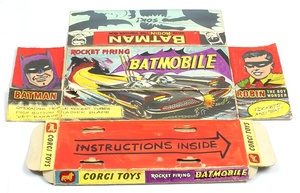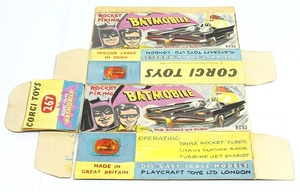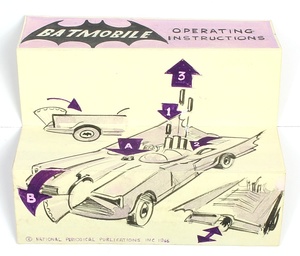 Please see our full listing in our archive:
http://www.qualitydiecasttoys.com/products/16253-C267
Monty's ability to source some of the rarest prototypes and colour trials did not stop there.
Here are some of the highlights from this section of his collection so far listed at QDT:
Corgi 268 The Green Hornet's Black Beauty Prototype (£3,000):
Wooden Prototype of Corgi Ford Falcon Ghia Torino (available for purchase at time of writing for £1000):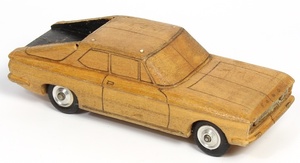 and the wooden prototype of the Vauxhall Velox (sold for £1500):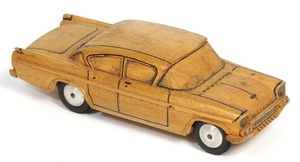 Wooden prototype of Citroen GS, from 1970 (available at time of writing at £1,350) and originally the property of Marcel Van Cleemput: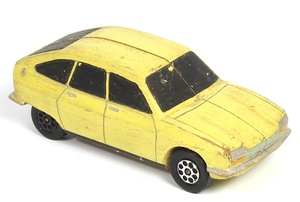 Another prototype originally the property of Marcel Van Cleemput, this Corgi 433 VW model is made in resin, and achieved £795.
This colour finish never went into production – one of a kind: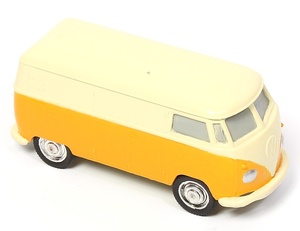 A wealth of Colour Trial models more unique factory pieces from The Monty Calme Collection.
A very attractive colour trial of Corgi 508 Holiday Bus (sold for £1650).
Corgi decided to go with the orange-red version, but this deep blue version would have been a winner too!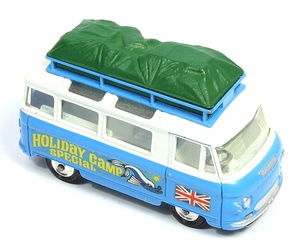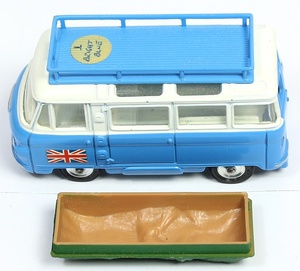 And this Corgi 490 Volkswagen Breakdown Truck in 'Toblerone Blue is a delight!
(Achieved £1950).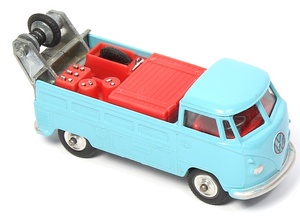 The production model was finished in avocado and then later in white with Racing Club labels.
This Corgi MG GT from 1967 is probably the only example ever made in these colours (sold for £595):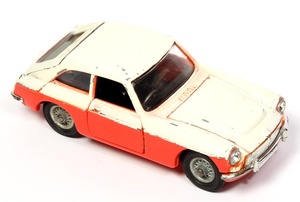 So many 'Firsts for QDT' including these rare/unique Corgi Land Rover models:
421 Land Rover in white, celebrating the 10 million Corgi Land Rovers produced – quite a feat! Few made, and never on general sale – so Monty was pleased to own this one. Sold for £750.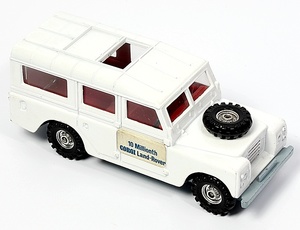 And this colour trial piece, probably a unique item, and certainly this model never went into production in this guise (sold for £495):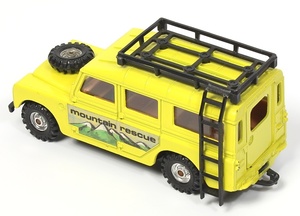 What a difficult find this is – in RAF Blue with a yellow interior, suspension and a RAF Blue tilt! Sold for £850.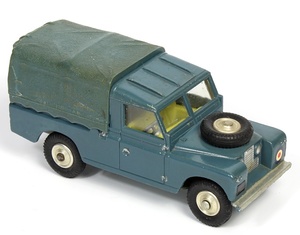 This deep blue Land Rover, too, never got past the colour trial stage (although a similar item became part of Corgi Gift Set 44, the French issue Gift Set which includes a lighter blue POLICE Range Rover). Sold for £395.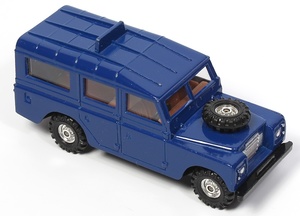 This collector was fortunate to meet up with an ex-Corgi employee who sold him this superb colour trial Mercedes model. Sold for £745.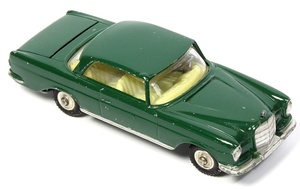 and these two colour trial pieces, both from the same source.
This example sold for £595: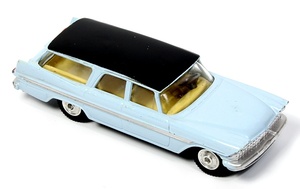 and this one sold for £495: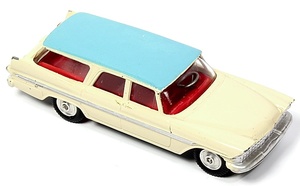 We have never seen another Corgi 247 Mercedes Pullman with gold-plated bumpers, bought on one of Monty's U.S. forays, this model was a dealer promotional item. This model achieved £1000: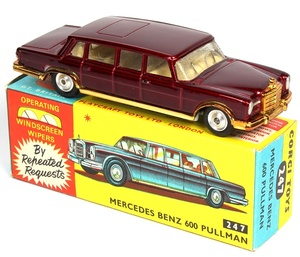 This version of Corgi 421 Evening Standard Bedford Van with transfers at the sides never made it past the design stage. This very rare piece sold for £995.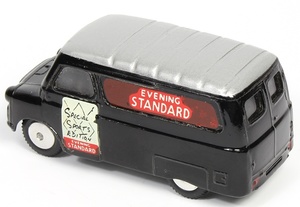 We do not ever expect to see another gold-plated Ferrari Berlinetta (one of only 3 made). This example was originally the property of Marcel Van Cleemput, selling through Sotheby's Auction House in 1999. Available for sale at £6,500 at time of writing.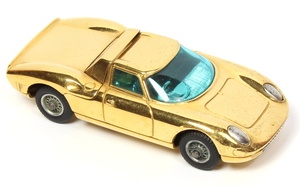 This most-eye-catching colour trial piece was originally the property of Marcel Van Cleemput and sold though Sotheby's Auction House in 1999. This model achieved £2000: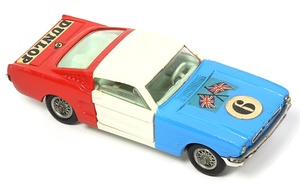 The epic story of The Monty Calme collection continues…we are half-way through his 'collection of rarities' and here picked at random is a taste of what is to come.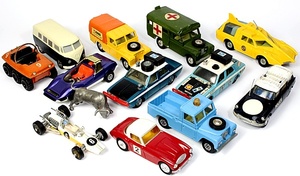 Being at the forefront of high-end Dinky & Corgi collecting has enabled us to take a view on the emergence of a new wave of collecting habits. With single item pieces regularly achieving prices £1000+, we find collectors are viewing individual items as investment pieces that they can enjoy owning up until retirement, and maybe beyond. With low returns on savings and the poor performance of pension plans, the alternative of riskier investments on the stock market does not hold great appeal. The strong demand for high quality Corgi in particular, makes this a very tempting alternative. The 'rainy day' investor has always been around – but even more so now, with Corgi models having performed consistently well over the last decade. This trend shows every sign of continuing.
---