The Corbridge Collector
QDT embark on the sale of items from another large Corgi Collection. This collector notches up more than forty years of collecting Corgi models.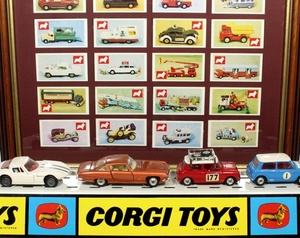 We are thrilled to be handling an instalment from another large, extensive Corgi collection from one of the longest standing Corgi collectors we have known. His knowledge of Corgi models is encyclopaedic and whenever we have a question however obscure, this collector has the answer at his fingertips. He has become our Corgi guru!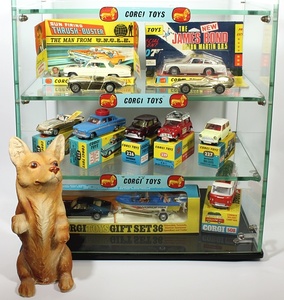 Enough from us, here are a few words from the man himself!
"I have always owned Corgi Toys and still retain a few from my childhood days. However my real collection first started when I saw in a shop the Corgi Whizzwheels issue of the Rover 2000TC in purple – I didn't buy it then! But from around 1973 I slowly bought pieces I liked and then realised that you could still acquire older pieces in unused condition and in their boxes.
So the chase began and Exchange & Mart was a source back then plus some auction houses and the evolution of toy fairs helped and made acquisition somewhat faster. I have always been a collector of Corgi Toys and started my collection off by trying to get all of the Gift Sets that I had owned previously and those that I craved when a child.
Here's a rare Gift Set 41 – the Scammell version which includes the Saint's Volvo with red bonnet label and cast wheels :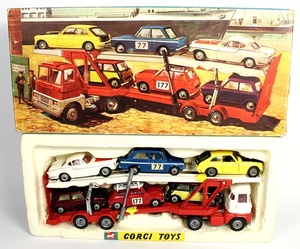 As my experience developed so did specialist magazines on the subject which helped enormously. Even today I find that there is much to learn about the subject.
My all time favourite model is a difficult choice but probably would be #275 Rover 2000TC in white with Take-off-wheels and Golden Jacks. My father always owned a Rover and this model went with me all over.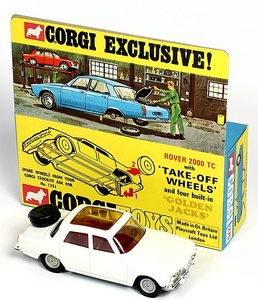 Is there anything I have not owned and still desire?
Well yes, the only prototype Road Rover #212 that I believe sits secreted away proudly in a collection in Europe.
My Collection High Point
My highpoint of collecting is without doubt in 2011 when I first exchanged letters and then met Marcel van Cleemput later that year. I still well-up when I think of how much pleasure he brought to me and many other fortunate young lives through his ideas and creations.
Finally would I start all over again?
With available resources, yes in the blink of an eye!"
---