Monty Calme Collection Part 2
Reflections on selling the second tranche of this world class collection with a note from the man himself and a sneak peek at what is coming next…..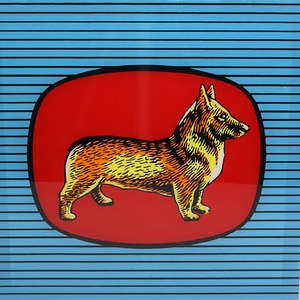 This is a time of superlatives at QDT – we are at our busiest, we have some of the best collections we have ever seen to offer collectors, and we are (almost) getting accustomed to uncovering some of the best and rarest toys that have ever come to the market-place. Almost – but not quite – we think it will be time to consign our magnifying glasses to their respective drawers and put our (computer) mouse to bed, should we ever lose that thrill of unwrapping a rare toy.
Part 2 of Monty's collection has been an exciting one! But first, here are a few words from the man himself:
From the very beginning it has been a journey of discovery.
My earliest recollection is just being amazed by the artwork on the early boxes. James Bond,Batmobile etc..
Once I had established a desire to enhance both my collection and knowledge everything just fell into place.
Early on toy shows and fairs were a great source of bargains and advice…auctions taught me to be wary but my personal best was tracking down old toy shops which 20 plus years ago were still around in reasonable quantity to establish a relationship which often led to being given first right of refusal as collections came thru the door!
Ebay early on was a treasure trove and often led to meeting dealers/collectors from all over the world…the USA has been particularly fruitful as often items were bought new and then stored in wonderfully air tight basements. Many of my items hail from the other side of the pond and in many cases untouched by human hands as they were very often never removed from their original boxes…not even by me.
My biggest pleasure must surely be the many individuals I have met over the years who were so generous with their time and knowledge.
This enabled me in my quest to get the very best I could find and to retain the passion for our hobby that is still with me today.
Always in my mind was that Corgi was at one time the finest diecast manufacturer in the world, at the very forefront of innovation and how very quickly it all changed. It has been a privilege to be a custodian of these wonderful historic items that have given me such joy.*
And the highlights from M.C. Part 2?
Well, personally, we were especially delighted by his 'blue box' (early Corgi models) selection.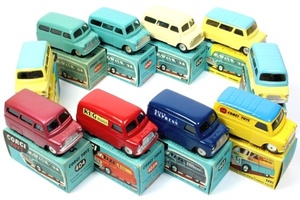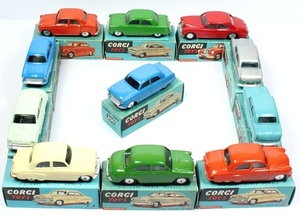 and individually, we have to single out the following: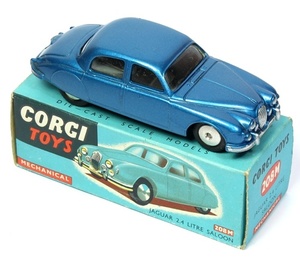 and this one which sold for £750 under our 'Offers Invited' system: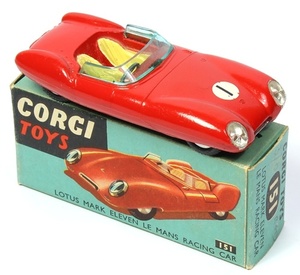 and this one, which is such an appealing model: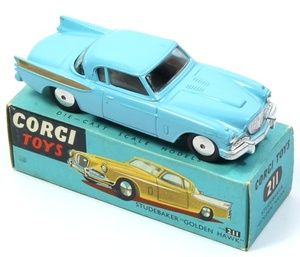 This hard to find Rover model was snapped up: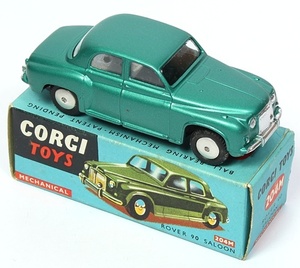 A fine example of the cream Consul: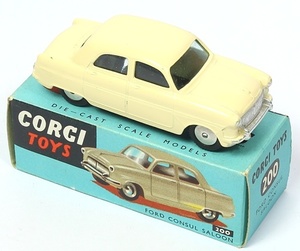 A superb and rare version of Corgi 206M Hillman Husky in turquoise sold for £1401 under our 'Offers Invited' system: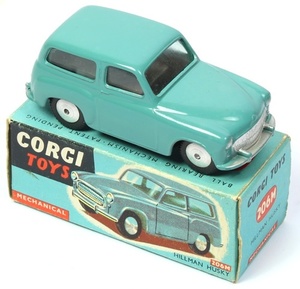 and finally, this exquisite mechanical Riley Pathfinder in red, which achieved £1500 under our "Offers Invited' system: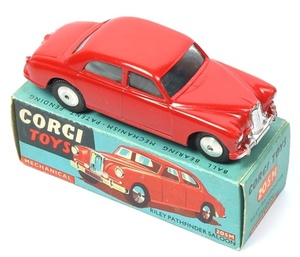 Mini Model rarities.
It was a very special day for us when we unwrapped Monty's selection of rare Mini models. Each an exceptional find; either very rare (the orange Mini colour trial piece which hailed from a collector in the U.S) or promotional (Mustard Mania) or pre-production pieces from the property of Marcel Van Cleemput!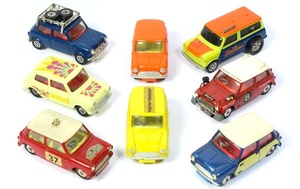 The Corgi range of Jaguar Mark X models.
We especially enjoyed Monty's range of Jaguar models too which were snapped up very, very quickly indeed: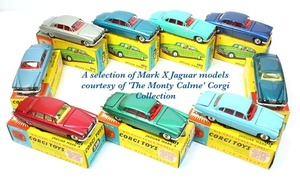 QDT Firsts
Some firsts for us in this second batch too, like this Corgi 406S Land Rover in saffron yellow with suspension. One of only a few that were made toward the end of the production run in 1963. This has got to be one of the best you will ever see – we have not seen another which compares to this: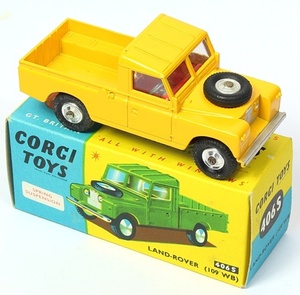 This rare version of Corgi 431 VW Pick-Up (probably an export issue) – the first we have ever handled :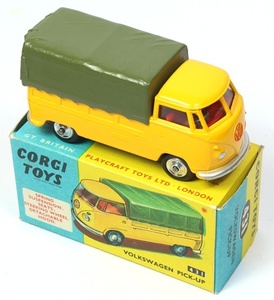 And this rare promotional issue of Corgi 150 Vanwall: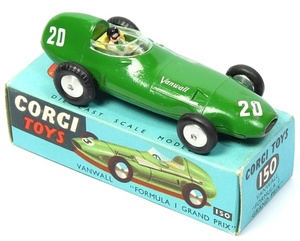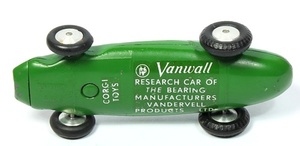 Another rare find – the Ford Mustang Fastback with the 'Flower Power' label on the boot: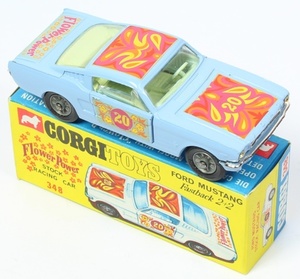 Always on the look-out for the very rare or the extraordinary, we were particularly intrigued by this Code 3 promotional 'Boots The Chemist' Van: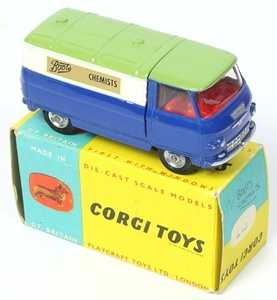 Exceptional quality models achieve exceptional prices:
This rare export version of Corgi 464 Commer Van 'POLICE' in green, in outstanding condition, complete with Instruction Leaflet & card packing ring achieved £1860 under our "Offers Invited' system.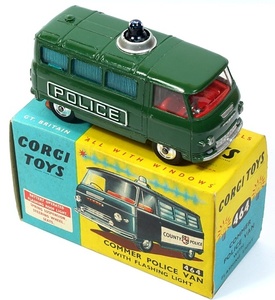 Rarest of the rare
And so what is coming next from Monty? Well, apart from many more 'standard' issue models and ephemera too, there will be (unsurprisingly) colour trial models and pre-production items. A particular landmark item not yet listed is the original model and artwork for the Corgi 267 Batmobile! An immensely significant piece of Corgi history… we cannot help but wonder what else lies in store for us. Safe to say, all will be revealed in the coming months. Hold on to your hats!
---