The Golden Age of collecting - it is always now
A personal view on the development of Dinky and Corgi collecting- drawing on our 30 plus years of being at the front end of the toy collecting business
Newcomers
We remember only too well our first forays onto the toy collecting scene – it was 1983 and an early Sunday morning at Bristol Templemeads Toyfair – we entered the stage populated by the 40 and 50 somethings looking like wide-eyed children with our small stall strewn with a random selection of boxed Dinky/Corgi toys and tinplate too in those days. Why do we always remember the humble Euclid Dump Truck in particular – and every stall worth its salt had to have a smattering of Fodens and Guy vans, ours was an Ever Ready and a Golden Shred Guy Van. Prices we recall from these times – most boxed Corgi cars were £30 each or thereabouts:

Leafing through our old accounts from this time, we find we sold a boxed Dinky 191 Dodge Royal Sedan for £50 in 1989:

A boxed Guy Van 'Ever Ready' was £90:

Dinky military could be picked up for under £10 each:

As always, the newcomers stall was quickly stripped of anything under-priced by savant dealers before the public entered the foray, and of course anything underpriced disappeared fast.
Learning the ropes
We learned the ropes quickly (you had too) and we still recall vividly the tangible air of excitement at those Gloucester and Windsor toy fairs in particular – the throngs of people massing at stalls, the early, early mornings, the friends you made across the stall, the inevitable highs and lows of good days, unbelievably good days and the days that you wished you had stayed in bed.
1980's – the 1st Golden Age
The toy collecting scene really burgeoned in the early '80's – set against the backdrop of the times, prices rose almost weekly – it felt like you could never really buy at the wrong price, merely wait a month or two and watch the price rise.
Toys really gained prominence and even credibility at this time – no longer a pursuit for the few – a marriage of nostalgia and sensible investment – what could be better!
Even in those days, we well remember the plaintive calls of 'When is the bubble going to burst? ' and thankfully these calls were mostly ignored. We say thankfully, because it would have been just that fear of the bubble bursting, that would have surely created the great big pin to end all the fun!
But this was the 1st Golden Age of toy collecting and no-one was going to produce the great pin to end it.
The popularity and frequency of Toy Fairs just grew and grew. We attended one most weekends and the occasional mid-week one too (we remember a particularly snowy evening in Birmingham), but some dealers managed to clock up double that!
Collecting and The Computer Age
Years passed and then in the mid-90's, computers and something called The Internet increasingly became mentioned. At this stage, we thought we were enterprising enough having a list in The Collectors Gazette Magazine (no pictures, merely one line with a price alongside), and yet even at this time, Mail Order was becoming more and more of a factor. Our telephone sales grew and then – a momentous day – we had a fax machine! Now there was no looking back, a list in a worldwide magazine and orders coming from all corners of the world. We were now busy weekends and in the week – we felt more and more like a proper business!
2nd Great Golden Age & The Armchair Collector
Later still, the whispers grew about something called eBay and I suppose this is when the 2nd great Golden Age of collecting began as those most enterprising of collectors entered the computer age of collecting. Now the armchair collector was born! No more early starts on the weekend driving half way across the country, now the hobby could be pursued anytime of day and night, any day of the week.
We were so excited to get our first website: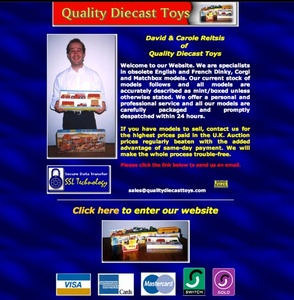 but have to cringe a little at it now! We were 'allowed' just six pictures to be added per week by our website manager and yet it was still such a huge leap forward. Of course, over time, it changed and our business has grown beyond recognition. One thing remains constant however, our firm intention to seek out only the very best, give the very best service we can, and most of all, enjoy immensely what we do!
Our Golden Age – and yours too
With some truly superlative collections coming to us, this is sincerely the best time for us, maybe this is our Golden Age. And more than that, we firmly believe this is the Golden Age for toy collecting, and like no other time, the world has opened up for the collector in a way that was never possible before. Now, truly and unequivocally, whatever your collecting aim is, it can be realised. This is your Golden Age too.
---