James Bond - a collecting passion!
A personal collector's story – written by a collector for fellow collectors, and includes a note from QDT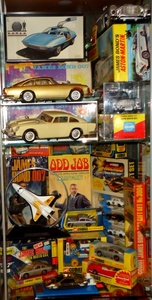 Article submitted to QDT by DB:
Back in the early 1980's, I was fortunate enough to work in a toy shop and to meet a collector & dealer named Don Ranking who appeared to scour the globe for obsolete ex-shop stock condition toys. He would often come back from overseas with stacks of trade boxes containing Corgis & Dinkys, some of which I was familiar with and some I had never seen before. My area of obsession was TV & Film themed toys. Don was able to supply all the Gerry Anderson Dinkys and film-themed Corgis which looked like they had left their respective factories yesterday, instead of 20 years ago. I bought them for around £18-£30 each so very affordable high end collecting. Forward a few years, & I lost my job and decided to sell my treasures to a West End dealer who gave me £10 each & sold them on for possibly 10-20 times more – in fact, some of the major collectors today actually have some of my ex-pieces in their collections.
Pieces like this (courtesy of QDT archive):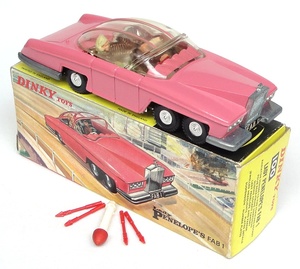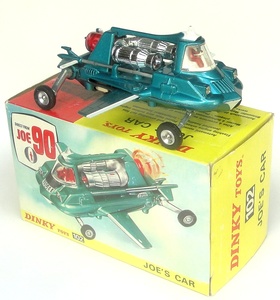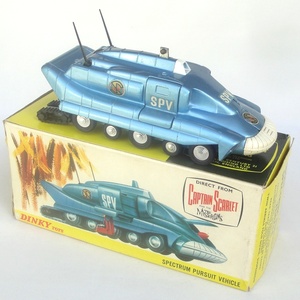 With the release of 'The Great Book of Corgi', I saw things which I'd tried not to think about and the desire to own certain pieces again was rekindled, but found that even less than perfect boxed examples were all £100 or even £200 plus – and I realised my modest collection was now worth thousands….
So what got me back onto the road of financial suicide i.e. the pursuit of items which had long gone before? In 1991 a gent by the name of Dave Worrall published a book entitled The Most Famous Car in the World, the complete history of the James Bond Aston Martin DB5….wow! Dave was also the editor & publisher of The James Bond Collectors Club publication which was at the pinnacle of James Bond diecast collecting.
I read it cover to cover, it was wonderful & included a very detailed history of the toy James Bond Aston Martins of the 1960s including very in-depth Corgi coverage. That was it! I had to have them again. The prices for near to perfect examples ranged between £95-175-275, so we were up and running. I had replaced the 261 & 270 Aston Martin DB5s, 336 Toyota 2000 GT,  391 Ford Mustang and 811 Moonbuggy models and picked up a boxed gold plastic Gama 4900 Aston Martin DB5 to boot & not to mention securing through a private add, Corgi Junior OHMSS trade packs!
From QDT archive: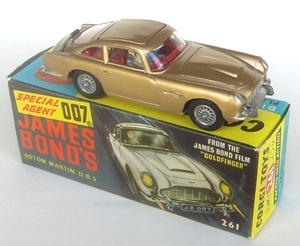 and: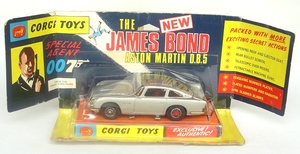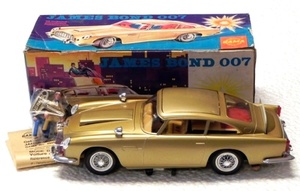 Over a couple of years apart from getting back some treasured Corgis which were not as mint as my ex-Don Ranking examples, I got to know the author Dave Worrall as a fellow collector. He told me of a future project he was working on & I told him about some pristine ex-shop stock condition Corgi Juniors OHMSS models I had been lucky enough to source which Dave wanted to include in his future guide.
Once you have the regular models where do you go next? Even back then, the holy grails for both Corgi and diecast collectors were the D978 Corgi Rockets and E3004 Corgi Juniors On Her Majesty's Secret Service gift sets issued in 1970. I managed to purchase the Rockets Gift Set and this was secured for a credit card cheque for £5000…ouch! Yet another private ad. led to securing the Juniors Giftset perhaps 3 or 4 years later for an eye watering £4500.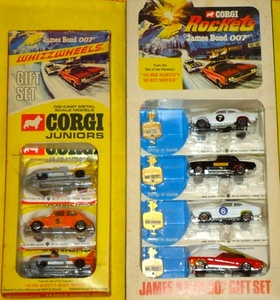 In 1996, Dave Worrall released his self-published masterpiece, 500 signed editions, 'The James Bond Diecasts of Corgi'. A fantastic little book which, like Famous Car, was read cover to cover. My copy was no:64 (how very apt). It was great to see some of my collection in print but with the book came the realisation that no matter what the cost and no matter how long it took, I had to source genuine examples of the Royal Premiere Moonraker Shuttle & Lotus Esprit presentation Corgi models. Now amazingly I knew the owner of the Moonraker Space shuttle featured in Dave's book. My shuttle is believed to be the only boxed example outside of the Royal household.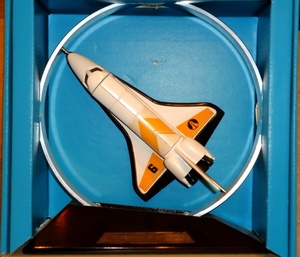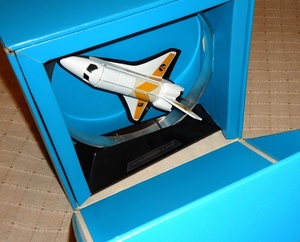 Roger Moore had also been approached or at least his representative but the great gent had given both his Corgi Royal Premiere Lotus & Shuttle to his son and I didn't think HRH would part with hers! After much negotiation and another large credit card cheque, the Shuttle was secured and I immediately started thinking Gold plated Lotus! I mentioned the Lotus to the ex-owner of the Moonraker shuttle and he knew someone who worked for EON, the Bond movie production company who had one, who was keeping it as a nest egg for his grandchildren & what a nest egg it was. There was no negotiation on this one, a price was handed down and that price was paid. It was in a stunning hand fabricated flip-open gold card box, was tarnished to hell, but buffed up nicely with a cloth duster.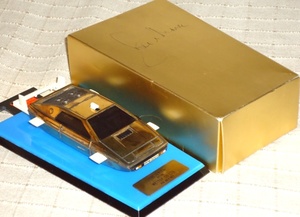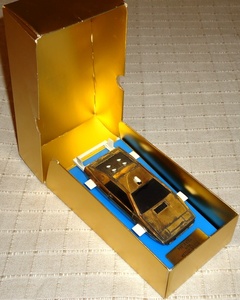 Years later, I contacted Moore Office, Sir Roger Moore's London office and was able to arrange a brief meeting with Sir Rog and his lovely daughter Deborah, while at luncheon at a London restaurant to get the two Royal premiere models signed. Both the Shuttle & Lotus boxes were signed with an empty pen. When the knight of the Realm realised his error, he signed them again over the previous indents & put in brackets after his signature "I signed it once with a ballpoint!" which he thought was hilarious…I didn't!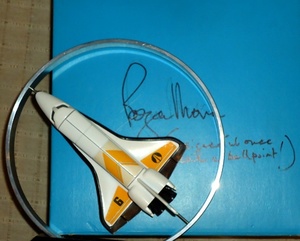 Apart from The James Bond Diecasts of Corgi', the shuttle also featured on a colour membership postcard for The James Bond Collectors Club publication and the Lotus was featured in a colour plate in Sir Roger Moore's Bond on Bond book. 
Corgi was not the only company to produce a diecast version of Bond's Lotus Esprit. EdaiGrip of Japan  produced a licensed slighter larger & superior version to Corgi where the wheels folded back, fins pulled out & rockets fired from the correct bonnet location. This was sourced for me by the BBC's Antiques Roadshow specialist Justin Pressland.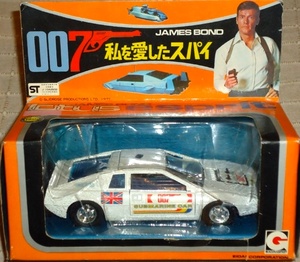 Well if you have the regular models, the holy grails and the Royal specials, where next? 270 variants: 1968 first winged pack with silver grille (my personal favourite), 1970 first slimline box with gold grille, 1973 second almost generic box & 1976 third variant with flared wheel arches & reduced gadgets…yuk! One of the hardest items to source was a mint carded Corgi Junior 1001 James Bond Aston Martin DB6 with metal wheels & rubber tyres and matt silver coachwork.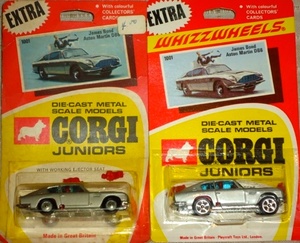 Basically a re-carded Husky 1001. Then you start to look for point of sale material on the 270 & 261 models such as general catalogues, store posters, counter stands


and even Mettoy press releases on the models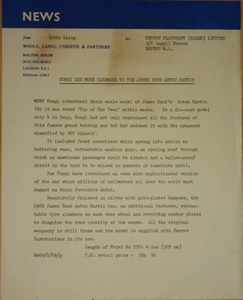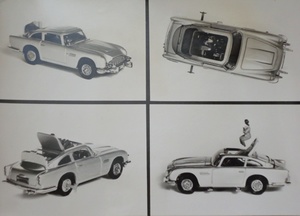 …enter QDT into my life & by the discovery of their website missing out on a 269 Lotus Esprit cutaway factory demonstration model by perhaps a couple of hours'see QDT archive http://www.qualitydiecasttoys.com/products/4910-C269
You may ask the question why specialise in James Bond? Why not try & recover some of the other themed diecasts you stupidly let go? Well it had crossed my mind but I think a First issue Dinky Thunderbird 2 in superb condition, with zero rubs on the box or model would be perhaps £900 or more.
Like this ( from QDT archive):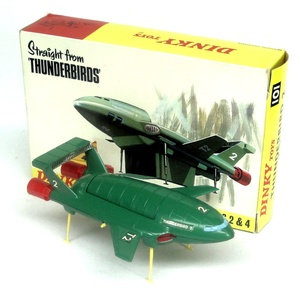 Additionally when I got back into collecting seriously, I decided to concentrate on 1964…Goldfinger, the James Bond Aston Martin DB5 & 'Bondmania' of the 1960s only. This included a hunt to find an unused, close to ex-shop stock condition Scalextric set from 1967 after seeing one in 'The Most Famous Car in the World'. The set was never played with…..criminal!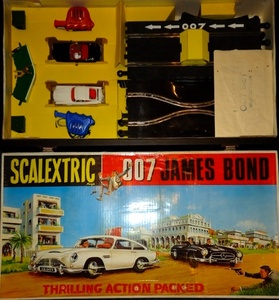 After Corgi & Scalextrix, if you only want to go for licensed models, then you have Gilbert in the US and Gama Mechanic of Germany who both produce quality tinplate versions of Bond's DB5, although both their tinplate variants were actually produced by ASC Japan.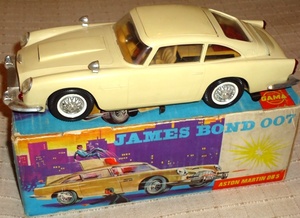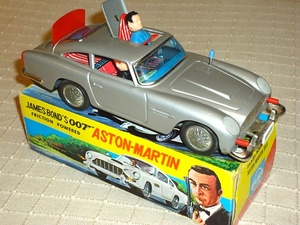 Gama of Germany also produced a 9" long plastic bodied clockwork DB5 moulded in either Gold, yellow or red or gold-painted coachwork. There was also a rare off-white variant which was also the colour of plastic lurking beneath the gold-painted coachwork. This is possibly the hardest variant to source in factory condition as the gold painted coachwork rubbed off very easily. Ex- shop stock condition with sealed contents of either variant go for a premium if you can find one!
Dave if you're reading this? 'The Most Famous Car in the World' has a lot to answer for!
From QDT:
If this has whetted your appetite for collecting James Bond, T.V related models, and promotional point of sale items – please do keep a look-out on our website! Over the coming weeks, we will be listing Corgi Junior and Rockets OHMSS Sets, promotional material including James Bond Stands, a superb Gama Aston Martin model, Corgi 270 models in every box style, and a scarce early plastic Mattel issue Chitty Chitty Bang Bang.
Update by DB:
The Corgi C269 Lotus Esprit factory demonstration model and Red sleeved Corgi press launch model have now been added to the collection with my grateful thanks to both QDT and Monte Calme.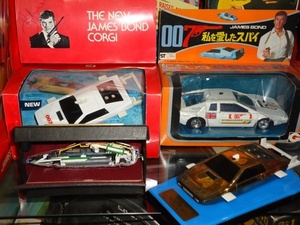 ---