Corgi Toys 1103 Chubb Pathfinder Airport Crash Truck
Chubb Pathfinder Airport Crash Truck by Corgi Toys, No.1103. One of only 6 made in yellow. Very rare. See Great Book of Corgi. Near mint plus/boxed, with personal recollection from the owner who was given this model in the 1970's by Chubb Fire. Now offered for sale as part of The Wesley Lodge Collection.
Notes
We are pleased to offer for sale this exceptionally rare version which captures a moment in Corgi's history during 1974.
The original owner of this model recalls:
"Only six of these models were produced in yellow and, if my memory serves me correctly, some or all of these yellow models were given to Chubb Fire probably as a thank you for the design authority.
In the mid-1970's I was a Buyer for the Military Aircraft division of British Aerospace in Lancashire who had a support contract for the Saudian Arabian Air Force. BAe had supplied fighter aircraft to the Saudis and later given the contract to support those aircraft and all their ground services across the country. My job was the supply of vehicles, vehicle spares and basically anything mechanical. It was a great job.
Chubb Fire handed out these yellow models to their major customers, of whom I was one having purchased several Pathfinder fire trucks for use at various bases in Saudi Arabia.
I've had it since the mid 1970's, having received it as a business gift from Chubb Fire themselves. It was brand new when I received it and it has been in storage ever since".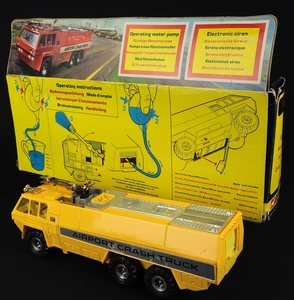 The production item Corgi 1103 Chubb Pathfinder from 1974 was finished in red. An Airport Emergency Tender in yellow was mooted and in fact 6 (only) were made, complete with the water cannon feature. However, the project was abandoned. Please note that The Great Book of Corgi has a little error. Marcel Van Cleemput may not have remembered quite correctly, see pages 313, plate 625 & page 412 plate 835. The model pictured (on page 412 should have been included earlier on page 313).
This rare example in yellow is in close to mint condition with a few minor rubs to the chrome gantry. Labels are complete on both sides (minor age wear). Yellow paint finish is virtually mint.
The large header card window box (standard, no specific box was made for this model) is bright and complete with original intact cellophane. Some handling and storage wear. With complete card insert (small edge tear). Note this is the early Corgi Major (upper case)and '1103' in red print at end flaps.
With water pump accessory.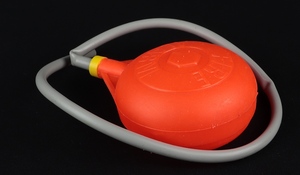 You may like