Corgi 436/475/499 Citroen Safari 'POLICE' Prototype
Never issued version of Corgi 436/475/499 Citroen Safari 'POLICE'. Sensational prototype originally from The Monty Calme Collection. Now part of The Gower Collection.
Notes
Originally ,this prototype model was part of The Monty Calme landmark Corgi Collection, covering the width and breadth of Corgi models amassed over decades by an exuberant collector. The Monty Calme collection was a truly astonishing gathering of the best of Corgi models and ephemera, including rare and unique pieces and point of sale items. The largest collection we have ever seen.
This Prototype model is now part of The Gower Collection.
This version never got past the design stage, which is a pity since we are sure this model would have been popular with collectors. This prototype model is finished in deepest blue and white with POLICE lettering on one side. White roof (still with the details that were relevant to both issued versions under the Corgi numbering 436, 475 or 499).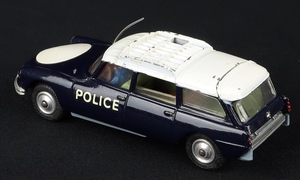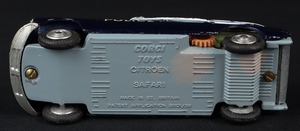 Couple of 'bloomed' areas on the base. Screwed base with the correct small brass screw and washer. Only one in place.
Seated inside this version, however, are two policemen figures. Interior is mid-tan and light blue-green with a semi-transparent plastic mesh section behind the rear seats (for Police dogs? In fact the Corgi Alsatian dog would be an ideal choice!).
Large white circle on the bonnet. Aerial. Silver trim. Grey base, with mechanism for laying the seats flat. Would expect that both the roof section details and mechanism for laying the seats flat would have been removed for this POLICE version, if it were to be put into production.
You may like